I'm sixty-two. She's six. I flunked gymnastics at MSU
but consider myself an expert at other things—like telling
people what to do and how to do them. We Google:
        
Cartwheel. "The cartwheel is a split hand movement."
Do you know what that means? she asks. Of course,
I say, directing her to raise her arms above her head.

One foot in front, the other in the back. That's right.
Think hand, hand, foot, foot. Now bend your body
to the right. Place your weight upon your forward leg.

I flip her over, my hands almost meeting around
her waist. We start again. I do what I do best. I talk,
speak of muscle memory:  That's true of dancers,

movements stored in their limbs… She rolls her eyes.
When your feet lift off the ground, there's that doubt—
not knowing how you'll land. You do it anyway.

A matter of faith. A bit like writing poetry, I say.
And is she listening when I mention my delight
as words spill out, performing cartwheels of their own
across the blank field of the page?
From Because There Is No Return (Passager Press, 2015).
Used here with the author's permission.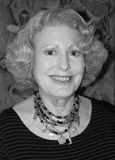 A former resident of Mexico City, Diana Anhalt moved to Atlanta, Georgia several years ago in order to be closer to family. A former high school teacher, editor, and civic leader, she is the author of A Gathering of Fugitives: American Political Expatriates in Mexico 1947-1965 (Archer Books), three chapbooks—Shiny Objects, Second Skin, and Lives of Straw—and numerous essays, short stories, and book reviews in both English and Spanish. Her most recent collection, Because There Is No Return, was released this summer from Passager Press (University of Baltimore).
Katrina:
This makes me smile.
Posted 09/13/2015 07:41 AM
rhonasheridan:
I keep thinking the last verse. It makes me chuckle as I wave pen and paper around! I was rotten at cartwheels! Hey ho!
Posted 09/10/2015 01:35 AM
Linda W. Owen:
:-) What poet could read this without smiling and nodding in agreement? What a delight! May the cartwheels never end!
Posted 09/09/2015 04:28 PM
diana.anhalt:
Wanted to thank everyone for the wonderful comments. Let's face it, it's so nice to have an audience. Diana
Posted 09/08/2015 11:06 AM
poetronics:
Wonderful Diana! Authentic and deftly drawn. Lois
Posted 09/07/2015 09:04 PM
Mary Lou Taylor:
What an ending!
Posted 09/07/2015 07:36 PM
Lori Levy:
I like the humor in this poem--an expert at "telling people what to do and how to do them."
Posted 09/07/2015 12:28 PM
Marilyn L Taylor:
Very fresh-- well written!
Posted 09/07/2015 09:28 AM
Cindy:
I love how she can compare cartwheeling to writing poems and still make sense!!
Posted 09/07/2015 08:36 AM
paradea:
I can see my mother skipping to church (clutching her pocketbook) with my then six-year-old daughter. Thanks for bringing this long-ago memory back. Nice poem!!
Posted 09/07/2015 08:09 AM
nscott29@aol.com:
Lovely poem.
Posted 09/07/2015 06:01 AM