bark tendrils
                        gasping  for light      
                                    sprig the air
                        roost
                                  
and wait
            for the impulse
                        for the sap       to synapse
                                                            into a burst
                                    of green buds
 

 
This poem first appear in East On Central (2016-17).
Used here with permission.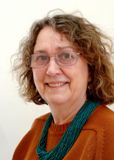 Marcia J. Pradzinski is a Chicago native who now lives in Skokie,Illinois. Having taught English in the International Teaching Assistants program in Chicago for many years, Marcia has always loved words in their many contexts: in print, in songs, and in foreign languages such as Polish and Ukrainian, which she heard spoken while growing up.The author of Left Behind, published by Finishing Line Press in 2015, Marcia's poems have been featured in anthologies and many print and online journals. She gives credit to her poet colleagues for helping her stay productive and accountable.
ladybug:
Very nicely done, Marcia. You capture the season and positive spirit of anticipated spring. Susan Moss
Posted 01/10/2020 10:26 AM
cork:
Marcia, you have spaced me out. Jenkuya!
Posted 01/10/2020 09:13 AM
bbatcher:
the form, so carefully crafted, fits the subject perfectly
Posted 01/10/2020 06:43 AM
paula:
great poem
Posted 01/10/2020 05:17 AM