It was in late August,
I watched my 8-year-old girl,
her ponytail stained with summer gold.
She turned to smile as she dipped her foot in the pool,
her whole slim body into the wavery blue.
With a long exhalation, I lay back, I let the word
float across me—motherland—-I felt it
sink with the sun through my skin
down to the source,
my grandmother, my mother's mother Aristea,
who arrived from the Old Country, a bride of 19.
We lived in the flat above her, an easy journey
down the winding stairwell to her
open kitchen door,
simmering smells of lemon
and oregano, almond and anise seed.
Gone for these eight years, she glows
like a pilot light beneath the days.
From Yaya's Cloth (Iris Press, 2007).
Used with the author's permission.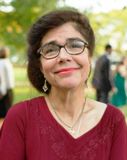 Andrea Potos is the author of five books of poetry, including the newly released We Lit the Lamps Ourselves (Salmon Poetry). A self-professed "book addict," her award-winning work often focuses on women and family. Her Greek grandparents and their spirit have been an abiding presence and inspiration throughout her life and poetry. Andrea lives in Madison, Wisconsin, with her husband and daughter.
Alarie Tennille:
My wanderlust strikes in the fall. This poem started it up a little early.
Posted 09/01/2014 01:22 PM
Dorcas:
Lovely, nostalgic. If you weren't there, you are now!
Posted 09/01/2014 11:13 AM
rhonasheridan:
I too loved that line 'her poneytail stained with summer gold' How lovely.
Posted 09/01/2014 04:32 AM
Katrina:
I love this; 'her ponytail stained with summer gold' crosses generations.
Posted 09/01/2014 03:25 AM
barbsteff:
Lovely image, grandmother as pilot light!
Posted 08/31/2014 11:19 PM