Power pagodas
holding language 
in long threads
buzzing with the
energy of thought
and all that gossip.
Suspended words
jittering down the
tightrope. Language
 walking without a net
© by Paula Schulz.
Used with the author's permission.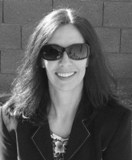 Paula Schulz has taught students in kindergarten, college, and a few grades in between. Involved with the Poetry People in Waukesha and, for the last two years, the Pewaukee Area Arts Council's ekphrastic project, Paula lives with her husband in Slinger, Wisconsin.
R. L. Bailey:
YES! Where does all that wonderful gossip come from, and where does it all go? -RL
Posted 08/07/2012 02:26 PM
transitions:
Now THIS is poetry... Paula, you're the best ~ Judy
Posted 06/16/2012 06:02 PM
vscholtz:
Terrific and such fun - You've done it again.
Posted 06/08/2012 04:28 AM
Donna Pflueger:
Paula, your originality and cleverness in this poem is incredible - language walking without a net - WOW! What an image you brought to mind! Thanks!
Posted 06/05/2012 09:06 PM
69Dorcas:
Humor par excellence.
Posted 06/05/2012 04:42 PM
Janet Leahy:
Language without a net, that is poetry! Fun poem, thanks Paula.
Posted 06/05/2012 11:51 AM
dotief@comcast.net:
How cool is this poem! Love it! Does what language should!
Posted 06/05/2012 10:52 AM
Jo:
Paula, so good to see you up here. Love the poem.
Posted 06/05/2012 09:58 AM
tiddles:
Congrats, Paula! Love the alliteration and the aerial acrobat image. Succinct, yet telling. Well done! Marilyn Windau
Posted 06/05/2012 09:37 AM
Buckner14:
Delightful! Fresh and lively!
Posted 06/05/2012 09:19 AM