Shadow sharecroppers
work remnants
of marginal soil,
gather remnants
for their toil;
stained faded denim,
thread-bare corduroy,
bleached flour sacks,
color from shirt scraps;
piecing textures
of unexpected patterns,
create warmth
with needles, thimbles, thread;
stitch Courthouse Steps, Housetops
and Medallions together,
sing gospel over
stretched communal art.


© by Erle Kelly.
Used with the author's permission.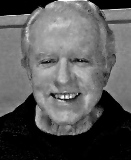 Erle Kelly, whose poetry has been published in a variety of print and on-line venues, lives in Long Beach, California and attended Long State University there. Retired from a career in marketing management, Erle keeps himself busy cycling, tutoring two days a week at a local elementary school, and attending a weekly poetry workshop. He and his wife enjoy tending their community vegetable garden and exploring the world.
ldkt:
Wonderful poem! It reminded me of Irene Latham's beautiful novel LEAVING GEE'S BEND. Erle's poem and Irene's novel inspire me to finish the quilt I started long ago.
Posted 09/03/2016 05:13 PM
Lori Levy:
Like the picture this poem creates for me!
Posted 09/03/2016 04:55 PM
Jean Colonomos-1:
Jean Colonomos I'm excited you referenced these remarkable women. Years ago, I saw their quilts hung at the Whitney Museum; the book I bought with photos of their quilts has been a wonderful companion and as a knitter, the patterns inspired a few of my blankets. Thank you.
Posted 09/03/2016 10:44 AM
ronaccount:
Lovely persoective. Did you get to interact with Philip Levine?
Posted 09/03/2016 10:42 AM
Newf:
Wonderful picture.
Posted 09/03/2016 08:49 AM
blueskies:
Amazing gathering of words & feelings, Thanks, Erle
Posted 09/03/2016 08:37 AM
rhonasheridan:
Quilting is wonderful. In every way. A sweet little poem.
Posted 09/03/2016 02:16 AM