On a morning like any other, my Cavalier stays right
of the double yellow line of an Arkansas blue highway.
This spry 1998 model lays flat her ears, stares intently ahead,
grins knowingly then leaps to the forefront at 55 miles per hour.

Motoring up and down, over and around the hills and curves
of this two-way race track, today I am a grey-haired racecar
driver with goggles, hat and scarf, saluting trees and
whizzing past roadkill and ditch daisies at 55 miles per hour.

No one follows us. My car and I are a lonesome twosome
as we travel the back roads into southern Missouri.
I imagine applause and a checkered flag waving just for us,
as we cross the state line at 55 miles per hour.

© by Barbara Robinette.
Used with the author's permission.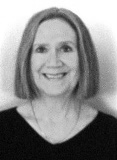 Barbara Robinette has read and written poetry ever since she heard "O, Captain My Captain" recited while watching President Kennedy's funeral procession on television. Through the years when she was busy working and raising children, Barbara's love of poetry had to simmer on the back burner but, now, in retirement, she is enjoying the chance to actively pursue both reading and writing poetry Her work has appeared in numerous journals and she has published two books. Barbara lives with her woodsman husband, a playful dog, and two sleepy cats in the woods of Arkansas's Ozark Plateau.
elissago:
Congratulations, Barbara!
Posted 04/23/2018 02:09 PM
Pat Durmon:
Fun. Delightful. Intriguing. Light. Good job!
Posted 04/23/2018 10:15 AM
sealily:
my sister...what exciting thoughts as you drive the quiet roads of arkansas. cheers to you and i'll be thinking of you as you cross the finish lines.
Posted 04/11/2018 08:41 AM
barbsteff:
lonesome twosome! Wish I'd thought to string those two words together!
Posted 04/10/2018 04:43 PM
Jo:
Love this poem, Barb. So glad to see it here.
Posted 04/10/2018 10:55 AM
cork:
I will wave as I see you whizzing past.
Posted 04/10/2018 09:17 AM