Yellow chert with cinnamon swirls,
Flint and jade serpentine
Put a shine on my
Pick-axe
When I dug your grave today.
There was no other place,
For this is your rise,
Your swell
Beneath a young valley oak
With the ranch resting
In the lap of these hills.
You came here to see the new barley
And Penny's tomatoes -
Plump as babies' bottoms -
And grandbabies grown,
Rolling downhill through lupine,
Through scarlet owl clover.
To thump against the garden fence,
Making the tomatoes dance.
If souls have duty
Beyond death,
Then yours
Is here.

© by Robert Walton.
Used with the author's permission.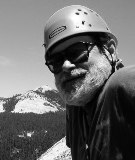 Robert Walton retired from teaching after nearly forty years. He is also an experienced climber and mountaineer who has climbed in Yosemite, the Sierras and, especially, Pinnacles National Monument, his "home crags." Robert writes fiction as well as poetry; his novel, Dawn Drums, won first place in the 2014 Arizona Authors Association's literary contest, as well as the 2014 Tony Hillerman Best Fiction Award. Learn more about him here.
Richard Greene:
Pardon, my mind was wandering. The Welsh poet is Robert Walton.
Posted 07/21/2018 10:39 PM
Richard Greene:
Dear Bob, Do you know you have a doppelganger, a Welsh poet named Robert Wagner? He's in good company. Your poem Oak Knoll is splendid.
Posted 07/21/2018 10:36 PM
Dorothy WildhagenD:
Actually, I think this is lovely; to be buried where I lived, loved, and had my being.
Posted 07/21/2018 08:33 PM
Robert Walton:
Thank-you all for your thoughtful comments on my poem. I'm glad I got the chance to share it here!
Posted 07/21/2018 07:38 PM
Mary Lou Taylor:
Beautifully worded. And thoughtful.
Posted 07/21/2018 05:24 PM
Lori Levy:
Beautiful language, beautiful poem.
Posted 07/21/2018 01:17 PM
Sharon Waller Knutson:
Beautiful description and story. Who wouldn't want their final resting place to be on a ranch surrounded by the people and scenery that we love.
Posted 07/21/2018 10:33 AM
wordartdjc:
Quite beautiful. He is a master!
Posted 07/21/2018 10:13 AM
KevinArnold:
Artfully crafted.
Posted 07/21/2018 07:45 AM
Michael:
Love the conflation of tomatoes and soul! Such originality! I'm taking notes Robert.
Posted 07/21/2018 07:41 AM
Larry Schug:
"Oak Knoll" illustrates so perfectly the coexistence of everything within what is. I like the ending very much.
Posted 07/21/2018 07:25 AM