In those few early moments
when you went indoors to pour
more coffee, to refill your cheery
yellow mug with the blue cat
on the front, pouncing
on the blue mouse . . .
 
While I stayed outside watching
pink heavens hinting at
the yellow-and-blue day on the rise . . .
 
That was the one time
Wood Storks chose to ornament
our humble square of sky, the one time—
perhaps in your life—
you had the chance to gasp at
the broad white bodies, the elegant
white wings—black-trimmed—
sailing our mild inland winds
on their way to someone else's sky,
the naked, grey-skinned necks and
down-curved bills extended, probing
the universe for its sweet spot.
 
But you missed it.
 
My mug, though—
plain and smooth and white
as cloud, as a Wood Stork's breast—
my mug was full.
 
I saw. And I gasped.
Loudly enough for both of us.


© by Susan Rooke.
Used with the author's permission.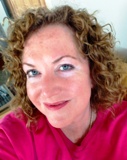 Susan Rooke and her husband live surrounded by pampered black cows, two grumpy donkeys, and amazing birdlife in the countryside of Central Texas. Susan writes fiction as well as poetry, and is the author of two books in a fantasy series, The Space Between and The Realm Below. Periodically she blogs about real life, food, and cocktails at http://susanrooke.net.
Anastasia:
Timing is everything! And what a perfect capture of a magical moment!
Posted 12/15/2020 02:58 PM
Jancan:
I would probably have been the one going inside for more coffee and missing the awesome sight! Lovely piece
Posted 12/14/2020 11:03 AM
juneinca@aol.com:
Love all the detail in your poem. I was there in the moment.
Posted 12/11/2020 04:47 PM
Lori Levy:
Beautiful poem of a captured moment.
Posted 12/11/2020 04:20 PM
srooke777@gmail.com:
Thank you so much, everyone, for reading and for your wonderful comments! And thank you, Jayne Jaudon Ferrer!
Posted 12/11/2020 04:08 PM
joecot:
You filled my mug. Thank you.
Posted 12/11/2020 02:09 PM
carlpalmer:
I'm glad he missed it, Susan, or we would have missed your poem.
Posted 12/11/2020 01:20 PM
wayne.goodling@yahoo.com:
The visual images really took me there............and then the ending was so unexpected it made me gasp..........thank you.
Posted 12/11/2020 11:46 AM
Sharon Waller Knutson:
I love the description and details on this picturesque poem as much as I love what it is saying: cheery yellow mug with the blue cat on the front, pouncing on the blue mouse, pink heavens hinting at the yellow-and-blue day on the rise, smooth and white as cloud, as a Wood Stork?s breast.
Posted 12/11/2020 09:17 AM
michael escoubas:
Gorgeous choice of words and sentiment Susan. I especially like, "humble square of sky."
Posted 12/11/2020 09:12 AM
Larry Schug:
The sharing of a moment like this, even after the event has ended, is part of poetry's job description. That amazement can be shared is in itself, amazing. How many more have seen these wood storks and found peace in the image planted in their brains because of your words on a screen? Thank you, Susan Rooke.
Posted 12/11/2020 08:37 AM
Jccjccac@aol.com:
You captured the moment perfectly. I recognize that feeling- seeing something spectacular and no one else saw it.
Posted 12/11/2020 07:44 AM