Come, sweetheart, listen, for I have a thing
Most wonderful to tell you—news of spring.
Albeit winter still is in the air,
And the earth troubled, and the branches bare,
Yet down the fields to-day I saw her pass—
The spring—her feet went shining through the grass.
She touched the ragged hedgerows—I have seen
Her finger-prints, most delicately green;
And she has whispered to the crocus leaves,
And to the garrulous sparrows in the eaves.
Swiftly she passed and shyly, and her fair
Young face was hidden in her cloudy hair.
She would not stay, her season is not yet,
But she has reawakened, and has set
The sap of all the world astir, and rent
Once more the shadows of our discontent.
Triumphant news—a miracle I sing—
The everlasting miracle of spring.


This poem is in the public domain.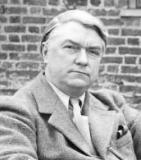 John Drinkwater (1882 - 1937) was an English poet, playwright, and actor. Working first as an insurance clerk and then as a theatre manager, John wrote actively in a variety of genres throughout his life. Besides being part of a literary group whose members included Robert Frost, John wrote a number of successful plays based on the lives of historical figures. Learn more about him at www.johndrinkwater.org.
Anastasia:
A wonderful choice for this time of year, Jayne!
Posted 03/06/2021 05:42 PM
Wilda Morris:
Beautiful! And perfect for this week when the red-winged blackbirds have returned and the snow is melting away.
Posted 03/05/2021 10:36 PM
Lori Levy:
So full of hope!
Posted 03/03/2021 03:18 PM
shirley.bruton@gmail.com:
So absolutely appropriate for this time of year. His muse is so sweet and delicate. She whispers and touches, and leaves her fingerprints. Just lovely.
Posted 03/03/2021 12:34 PM
paradea:
I absolutely love this poem. Beautiful!
Posted 03/03/2021 11:19 AM
KevinArnold:
Yes, wonderful find.
Posted 03/03/2021 10:11 AM
cork:
"Sap of all the world astir" captures it all.
Posted 03/03/2021 09:29 AM
Darrell Arnold:
Brilliant concept beautifully presented. I'll have to dig up more of his work. I didn't know about him, either.
Posted 03/03/2021 09:10 AM
Douglass Allen:
Enjoyed the poem and wondered who Drinkwater was. Somehow my English literature major, and subsequent reading, missed him and his voluminous works completely- or is it just my failing memory?
Posted 03/03/2021 08:19 AM