In the spectrum of hues
The colour to choose
For images strong and intense
For love and desire
For fear and for fire
Red has omnipotence

Itís the colour of danger
The colour of war
The colour that tells us to stop
The colour of rage
Thatís hard to assuage
When feelings go over the top

Itís the colour of blood
Itís the colour of joy
And for some itís the colour of luck
It catches the eye
In that bow in the sky
And signals when lightning has struck

Itís the colour of passion
Of style and of fashion
Itís the favourite of lady and gent
Itís the positive lead
In the battery feed
And shows up when weíve overspent!

Itís a Valentine rose
When sweethearts propose
Full glasses of rich fruity wine
And many a berry
From strawberry to cherry
Plump juicy grapes on the vine

Itís the colour of strength
Itís the colour of power
The colour of rubies so rare
A cardinal gem
In the crown diadem
With red there is naught to compare


© by Nick Balmforth.
Used with the authorís permission.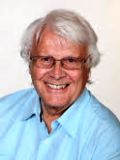 Nick Balmforth is a retired safety inspector of children's indoor play centres. His primary published work has been in the field of safety standardization for the British and European indoor play industry and he was awarded an MBE (Member of the Most Excellent Order of the British Empire) for his work in 2012. Nick is also a successful voice-over artist and, in addition to poetry, enjoys jazz. He lives in Staffordshire, England.
Wilda Morris:
Well done! I like the form as well as the content.
Posted 08/25/2021 03:38 PM
Anastasia:
Red is a wonderful color in so many ways!
Posted 08/25/2021 01:22 PM
CamilleBalla:
Wow!! And, yes, a bouncy , steady, red rhyme. A poem to remember. And many a berry from strawberry to cherry.
Posted 08/24/2021 11:49 AM
Stephen Anderson:
A most interesting around-the-realm of red poem, Nick.
Posted 08/24/2021 09:09 AM
Lori Levy:
Great references to all things red!
Posted 08/23/2021 01:45 PM
cork:
I bounced through my oral reading with the deliberate rhythms like a bull attacking a crimson cape.
Posted 08/23/2021 08:58 AM
michael escoubas:
I'm red with envy that I didn't think of this first! Great job Nick, wonderful beginning to the day with rhyme, color and craftsmanship in 6 sestets.
Posted 08/23/2021 08:36 AM
Darrell Arnold:
Nicely done, Nick ol' boy. Nicely done. And I agree with Jayne's remark about it being "bouncy."
Posted 08/23/2021 08:16 AM
Larry Schug:
Perfecto!
Posted 08/23/2021 08:12 AM
Sharon Waller Knutson:
I loved the title and the mention of the variety of emotions, fruits, gems and holiday associated with the color red. The most unique images are the bow in the sky and the positive lead in the battery feed.
Posted 08/23/2021 07:45 AM