October sun paints the kitchen
Light and shadow balance here
Take the pot and fill with water
Acolytes of the culinary art
Raise the energy, call the fire
How else can the alchemy start?
Slice the leek, julienne the fennel,
dice the carrots till they are fine
Combine all these most earthly treasures
Flavor them with herbs and wine
Call the spirits of the air
To feed the flame so strong and bright
Smell and stir and season again
Till the mixture tastes just right
Continue adding each ingredient
Gifts of living, blessings of fall
Mark this moment of pure magic:
the most important element of all!
Without love the pot is empty:
satisfies the stomach but not the soul.
October sun fills the kitchen
Light and shadow balance here.
†
†
© by Arlene Gay Levine.
Used with the authorís permission.
†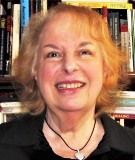 Arlene Gay Levine is an award-winning poet, author, and educator who lives with her husband in New York City. Her prose and poetry have been published in The New York Times, more than 30 anthologies, and in numerous literary journals. Arlene is the author of 39 Ways to Open Your Heart: An Illuminated Meditation (Conari Press,) and Movie Life (Finishing Line Press). Learn more about her at http://www.arlenegaylevine.com.
Lori Levy:
Like the combination of the October sun and the cooking.
Posted 10/18/2021 08:30 PM
Arlene Gay Levine:
Thanks, folks...always grateful for your thoughts and well chosen words!
Posted 10/18/2021 05:23 PM
Stephen Anderson:
which is why nothing beats home cooking, gourmet or otherwise
Posted 10/18/2021 11:37 AM
Jancan:
Lovely, descriptive poem-about so much more than food!
Posted 10/18/2021 10:10 AM
cork:
I am encouraged by this poem to select my spices for gumbo soon.
Posted 10/18/2021 08:59 AM
Larry Schug:
Awesome to the extreme! "Raise the energy, call the fire. How else can the alchemy start? Exactly what these words do.
Posted 10/18/2021 08:43 AM
michael escoubas:
This is a total, unequivocal delight, Arlene . . . love its dual emphasis on taste that must be accompanied by satisfactions of the soul. Wonderful "food" first thing on Monday morning.
Posted 10/18/2021 08:19 AM
bobbi43sml@aol.com:
Gorgeous , captures grace in the moment. Recently had the pleasure of reading your poem :Together" at a friends farewell sendoff - for a year of travel. This one does the same - brings every reader into that kitchen, balanced and together.
Posted 10/18/2021 06:25 AM