That pecan pie thick with
glazed cinnamon that I denied
my urge to buy at Detroit's gate 11
and that slice of layer cake
capped with buttercream
perched on rotating lace -- O,
didn't those ladies
in their ruffled dresses
teach me anything - the ones
who waved off the dessert cart
the last night of the Titanic?
© by Shoshauna Shy.
Used with the author's permission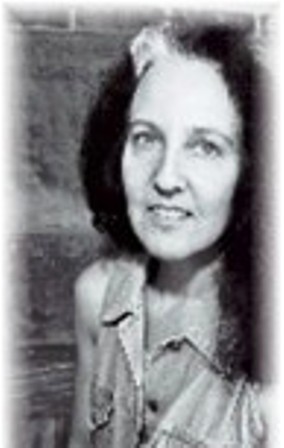 Shoshauna Shy enjoys writing poems more than just about doing anything else, and most of her inspiration arrives at those times when she should be doing something else--like cooking for guests, conducting scientific research, or calling the dentist. She has poetry collections published by four different presses, and runs the Poetry Jumps Off the Shelf program in Madison, Wisconsin. Shoshauna also works for the Wisconsin Humanities Council, where she helps to create, coordinate, and facilitate poetry events for the annual Wisconsin Book Festival. Learn more about Shoshauna here.
mimi:
mouth-watering, fun poem, Shoshauna! Sharon Auberle (and true!)
Posted 09/27/2011 05:40 PM
transitions:
As if 'waving off the dessert cart' wasn't already hard enough?:) This proves that wonderful, original thought re: desserts still exists. Throw those diet books in the Atlantic and live! ~ Judy
Posted 09/27/2011 12:46 PM
pwax:
I laughed out loud. And I do understand the feeling. Phyllis
Posted 09/27/2011 10:34 AM
wendy morton:
Delicious poem. So spare, so funny, so sad.
Posted 09/27/2011 10:26 AM
angierdh:
That's pretty much the way I fly also...if I'm going down in a fiery crash, it's not going to be ON A DIET!
Posted 09/27/2011 08:43 AM
IrenaP:
What a wonderful poem! A laconic gem. Yes, I'm not going to wave off my dessert cart.:)
Posted 09/27/2011 04:12 AM