This site exists for one purpose only: to help dispel the ugly and absolutely untrue myth that poetry is boring. Granted, a lot of poetry is boring, but you won't find it here. At Your Daily Poem, you'll find poetry that is touching, funny, provocative, inspiring, uplifting, and surprising. It may punch you in the gut, it may bring tears to your eyes, it may make you laugh out loud, but it most assuredly will not bore you.
Poetry on YDP—by poets living and long dead, famous to completely unknown--is specially selected for accessibility and appeal. Thanks so much for visiting—and remember: a poem a day keeps the doldrums away!
On the 3rd Day of Spring
by
Nancy K. Jentsch
birdsong woos crocus and nettle
soothes rooster's worried caw
cheers cicada-scarred bark

overrides motorcycle's junk muffler
triples value of weeding time
shouts love to those who listen

sweetens trees' lungs and sap
betroths the earth to the sky
the mundane to the magnificent.


© by Nancy K. Jentsch.
Used with the author's permission.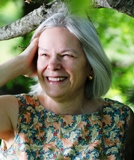 Nancy K. Jentsch calls herself "a second-career poet," having taught German and Spanish at Northern Kentucky University until 2020. She claims to now be "walking through life looking for just the right words, enjoying the thrill of the hunt and the mystery of the power of language." Nancy' is the author of Authorized Visitors and her new collection, Between the Rows, has just been released. Her work has appeared in various online and print journals and in several anthologies. Nancy says one of the best compliments she ever received was a friend's comment about one of her poems: "I don't like poetry, but I like this." Learn more about Nancy, who lives in Camp Springs, Kentucky, at https://jentsch8.wixsite.com/my-site.
Lori Levy:
Great details and images.
Posted 03/22/2023 05:39 PM
michael escoubas:
I do like poetry and like this! Nicely done, Nancy.
Posted 03/22/2023 09:39 AM
bobbi43sml@aol.com:
oh , "betroths the earth to the sky" is going to be one of my favorite lines ever!! Nancy, you found the right words for sure. Thank you thank you
Posted 03/22/2023 08:13 AM