Your grilled cheese sandwiches under 
the full March moon, as Jupiter draws 
near and we witness its unblinking eye 
hovering above the horizon at early dusk. 
The way your lip is slightly twisted upward 
at one corner making your mouth look like 
an irregular right triangle. 
Your explanation for washing your bed 
sheets three times a week, "dust mites." 
Your mantric complaint about how hard it is 
to dress well at 20 below zero in the midst of 
a blizzard. Yet refusing to compromise for 
the sake of warmth instead sludging, steadfast, 
like an Armani foot soldier through road salt, 
snow drifts and sleet. Saying, "some things 
will not be compromised!" 
Your method of slowly moving, methodically 
passing through the house...dusting, resetting 
souvenirs, just so. You, the feng shui master 
of knickknacks and fashion magazines, creating 
a perfect order in the universe of our life.
© by Charles Ries. 
Used with the author's permission.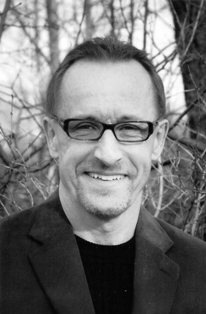 Charles P. Ries lives in Milwaukee, Wisconsin. His narrative poems, short stories, interviews, and poetry reviews have appeared in more than 200 print and electronic publications, and he is the author of a fictional memoir and six books of poetry. He is a former poetry editor for several publications and served on the Wisconsin Poet Laureate Commission.

katym@shaw.ca:
best "daily" poem i have read in a while-should be in Leaf Press- anthology of love poems - published for valentine's day will read more C.P. Ries katy
Posted 02/12/2012 02:30 PM
Anjie:
Do you know what is better than reading your poetry? Hearing YOU read it. I love your poetry, Charles, because it is honest and real. Now, I must go and make a grilled cheese sandwich. . . ~Anjie
Posted 02/12/2012 02:17 PM
jeanie:
yes to the twisted lip and the grilled cheese sandwiches in March ....
Posted 02/12/2012 09:08 AM
Buckner14:
This poem not only makes the testimony of love vibrant but helps us know the beloved--and love her because of/despite her characteristics. Thank you!
Posted 02/12/2012 08:16 AM
Russell:
Charles, "There is no excellent beauty that hath not some strangeness in the proportion." (Francis Bacon) Nice job on this one. Russell
Posted 02/12/2012 07:48 AM
KevinArnold:
Yes, to Charles and the Armani foot soldier.
Posted 02/12/2012 07:34 AM
LisaV:
what a sweet and lovely poem. I can see this person very clearly and understand the love!
Posted 02/12/2012 06:57 AM