Laughter wears a lilied gown—
  She is but a simple thing;
Laughter's eyes are water-brown,
Ever glancing up and down
  Like a woodbird's restless wing.

Laughter slender is and round—
  She is but a simple thing;
And her tresses fly unbound,
And about her brow are found
  Buds that blossom by Mirth's spring.

Laughter loves to praise and play—
  She is but a simple thing—
With the children small who stray
Under hedges, where the May
  Scents and blossoms richly fling.

Laughter coyly peeps and flits—
  She is but a simple thing—
Round the flower-clad door, where sits
Maid who dimples as she knits,
  Dreaming in the rosy spring.

Laughter hath light-tripping feet—
  She is but a simple thing;
Ye may often Laughter meet
In the hayfield, gilt and sweet,
  Where the mowers jest and sing.

Laughter shakes the bounteous leaves—
  She is but a simple thing—
On the village ale-house eaves,
While the angered swallow grieves
  And the rustic revellers sing.

Laughter never comes a-nigh—
  She's a wise though simple thing—
Where men lay them down to die;
Nor will under stormy sky
  Laughter's airy music ring.
This poem is in the public domain.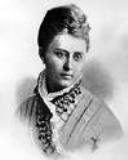 Isabella Valancy Crawford (1850 - 1887) was born in Ireland, but moved with her family to Canada when she was seven years old. Well educated and well bred, Isabella and her siblings suffered both financially and emotionally when her father's medical practice failed to thrive and illness caused the deaths of several family members. Much like Louisa May Alcott, Isabella wrote whatever she could to earn income for the family, and was frequently published in both American and Canadian newspapers and magazines. While she was not especially well known during her lifetime, today she is one of Canada's most celebrated female poets.
bubbleschristy@gmail.com:
Her imagery is wonderful. The simple things in life are best!
Posted 08/30/2014 10:53 AM
Dorcas:
Mindful and philosophical. Simple and profound. It should have been taken note of before there was the need for psychiatry.
Posted 08/30/2014 09:02 AM