The turrets leap higher and higher,
And the little old homes go down;
The workmen pound on the iron and steel--
The woodpeckers of the town.


This poem is in the public domain.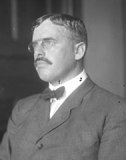 Charles Hanson Towne (1877-1949) was an author, editor, professor, and poet. Born in Louisville, Kentucky, his family moved to New York City when Charles was just a toddler. By the time he was eleven, Charles was writing and publishing his own magazine; he grew up to edit several of New York's most esteemed periodicals, including Harper's Bazaar.
69Dorcas:
An amazing play of words.
Posted 03/09/2012 05:47 PM
Katrina:
This is beautifully sad and I am grateful to Charles for the thought of wildlife.
Posted 03/09/2012 02:13 PM
KevinArnold:
Surprisingly modern.
Posted 03/09/2012 08:04 AM