on this maybe

most everything still gray

he's carrying a fish in one hand

its tail flipping the road

where just a little bit ago

so depend on someone else's

dead or alive

© by Maryann Hurtt.
Used with the author's permission.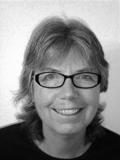 Maryann Hurtt lives down the road from the Ice Age Trail in Wisconsin. Working as a hospice nurse (especially emptying bedpans) keeps her grounded in everyday life. Her poetry has been published in several regional journals and she co-authored a book about hospice care. Learning Czech is Maryann's newest passion and she is starting to dream, and sometimes write poetry, with hints of Czech.
SA:
Thinking of you, Maryann, and how wonderful it was to see you at Fountain Park. My quick search for your contact info brought me the gift of your poetry. Thank you for the inspiration - both in person and on-line.
Posted 06/16/2016 01:12 AM
Maryann Hurtt:
I need to thank Sandy Rockhill, writing buddy extraordinaire, for the title. Yes, our lives really do depend on everyone else's!
Posted 03/31/2012 05:14 PM
69Dorcas:
A very interesting perception of life. The influence of circumstances, things, and environment.
Posted 03/26/2012 09:46 PM
Linda Muldoon:
Love it. I like the title as well as the ending. Yin Yang of fish looking in both directions.
Posted 03/26/2012 07:28 PM
Jhurtt1020:
Deep Girl, deep! Kind of like being adopted I guess! Love, #1 Bro, JRH
Posted 03/26/2012 07:01 PM
Jean Colonomos-1:
Such a wonderful, oh yes, poem. Jean
Posted 03/26/2012 12:46 PM
pwax:
Good poem, Maryann. Thank you. Phyllis
Posted 03/26/2012 11:37 AM
Glen Sorestad:
What a catch! What wisdom! Bravo!
Posted 03/26/2012 09:59 AM
Susan T. Moss:
Susan T. Moss: The turning point at any given moment, the choice to take the bait, the result...you capture life here.
Posted 03/26/2012 09:24 AM
Marilyn L Taylor:
Excellent. That image of the boy on the bike with the fish is memorable, and the ending is pretty darn profound.
Posted 03/26/2012 09:09 AM
dotief@comcast.net:
Powerful! I love the ending.
Posted 03/26/2012 08:56 AM
ed werstein:
Great work, Mary Ann!
Posted 03/26/2012 08:52 AM
KevinArnold:
An astounding poem. Not many get to the depth of the flapping fish, the meal. It's so much easier to write about a fish factory, but a hungry boy on a bike. Quite remarkable.
Posted 03/26/2012 08:48 AM
Ralph Murre:
Thank you, Maryann. We're all mostly "pumping against the wind", aren't we? A terrific piece of work.
Posted 03/26/2012 08:41 AM
Janet Leahy:
great images here, the powerful ending lingers, thanks
Posted 03/26/2012 08:18 AM
mimi:
beautiful poem, Maryann and most definitely truth in it...thanks sharon auberle
Posted 03/26/2012 07:52 AM
jeanie:
lovely, maryann! visual and though-provoking. thank you!
Posted 03/26/2012 07:07 AM
LisaV:
Great poem, Maryann. Much food for thought on a Monday morning in March. Thank you!
Posted 03/26/2012 06:41 AM
rksanders@charter.net:
You say so much, Maryann, in so few words. So much to ponder, so much wonder, in a boy on a bike, a fish in his hand.
Posted 03/26/2012 05:47 AM
wordsmith:
Wonderful, Maryann!
Posted 03/26/2012 04:18 AM