dinner party
the purple blouse
I gave to Goodwill
looks smashing on her,
I want it back.
© by Deborah Finkelstein.
Used with the author's permission.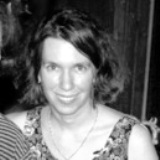 Deborah Finkelstein has an MFA in Creative Writing from Goddard College. Her poetry has been published in anthologies, literary magazines, and newspapers in Australia, Canada, Japan, India, New Zealand, Serbia, and the USA, as well as in online publications. Deborah teaches Creative Writing in Boston, Massachusetts; she has two dogs and enjoys hiking and seeing plays. Learn more about her at www.DeborahFinkelstein.com.
karenpaulholmes:
love it, That's how to say a lot in a few words.
Posted 04/24/2012 03:26 PM
pwax:
Perfect!
Posted 04/14/2012 10:15 PM
Tyler Gabrysh:
Punching poem with a kind gesture morphed into female rivalry.. a delight!
Posted 04/14/2012 01:06 PM
tannerlynne:
OH YES!
Posted 04/14/2012 12:55 PM
Sharon Urdahl:
Love it! A quick and honest glimpse into human nature.
Posted 04/14/2012 11:03 AM
dianapoet:
I like it
Posted 04/14/2012 08:30 AM
69Dorcas:
Something else looks better on you.
Posted 04/14/2012 07:02 AM
r1manchester:
oops..."sleek"
Posted 04/14/2012 06:06 AM
r1manchester:
sooo slee!! A+, teacher
Posted 04/14/2012 06:05 AM
gigi:
Perfect.
Posted 04/14/2012 05:43 AM
Katrina:
Ouch! Goodwill is such a thankless dinner guest.
Posted 04/14/2012 04:42 AM