Seashell swallows ocean
Pounds its tidal beat

Spark contains a bonfire
Tribal, flaming heat

Pebble echoes mountain
Architect of Earth

Seed encircles fir tree
Needled summer birth

Dawn announces daylight
Salmon skies unfurled

Heart splits softly open
Reveals the spinning world
© by Laura Purdie Salas.All rights reserved.
Used here with the authorís permisison.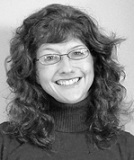 Laura Purdie Salas is the author of many nonfiction books and more than 100 books for kids and teens, including Bookspeak! Poems About Books and Stampede! Poems to Celebrate the Wild Side of School (both from Clarion). She loves to introduce kids to poetry and help them find poems they can relate to, no matter what their age, mood, or personality. When Laura's not reading or writing, she likes to play board/word games, do yoga, work out, watch reality TV, play Rock Band, and walk her beagle, Captain Jack Sparrow. Learn more about her at http://laurasalas.com.
marenomitchell:
In spite of its length, this poem has some of the sound of a haiku in its intensity. Love it.
Posted 04/20/2012 12:23 PM
69Dorcas:
This is lovely. The heart splits open. We need to unwrap so others can see our packaging.
Posted 04/20/2012 09:25 AM
Anjie:
BEAUTIFUL!!! This is one of the best rhyming poems I've read in a long, long time. Surprising (as in not predictable) and lovely.
Posted 04/20/2012 08:17 AM