I believe in the Tuesdays
and Wednesdays of life,
the tuna sandwich lunches
and TV after dinner.
I believe in coffee with hot milk
and peanut butter toast,
Rose wine in summer
and Burgundy in winter.

I am not in love with holidays,
birthdays—nothing special—
and weekends are just days
numbered six and seven,
though my love
dozing over TV golf
while I work the Sunday puzzle
might be all I need of life
and all I ask of heaven.

From The Green Season (2nd edition, World Parade Books, 2012).
Used with the author's permission.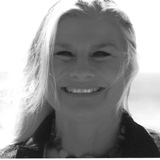 Donna Hilbert writes and teaches private workshops. Featured in the documentary, "Grief Becomes Me: A Love Story," she has seen her poems published in both French and Italian, and her book, The Green Season (World Parade Books), a collection of poems, stories and essays, will appear in a second edition in early 2012. Donna lives on the Long Beach, California peninsula where the creatures and scenery make her grateful on a daily basis. Learn more at www.donnahilbert.com.
erinsnana:
I LOVE this poem!
Posted 10/07/2012 12:03 PM
rcstewart3:
That is a true, "ahhhh..." poem!
Posted 04/23/2012 06:42 PM
Joe Sottile:
Excellent poem, and wondeful bio! Bravo!
Posted 04/22/2012 02:30 PM
marenomitchell:
What a love poem!
Posted 04/22/2012 12:37 PM
dorisd:
What a *wonderful* poem! i love it!
Posted 04/22/2012 09:23 AM
KevinArnold:
Interesting that Donna's bio ends on the same note as the poem, that of the Psalmist (poet) 66(8): "Bless our God, O peoples, give Him grateful thanks and make the voice of His praise be heard."
Posted 04/22/2012 08:49 AM
Buckner14:
It's lovely to see a poem praising ghe ordinary--and I love the last lines and their echo.
Posted 04/22/2012 08:28 AM
dotief@comcast.net:
Wonderful!
Posted 04/22/2012 07:43 AM