for Ayesha Muhammed

begin to move, not one of them past

eleventh grade, and I see

the bearded youngster with his tape

of numbered sounds, I think how I am moved

by the supple spears that are

their bodies, how their teachers,

who love them, would save them with art,

how that overworked parachute

under which they are dancing

to drums much louder than they need to be,

will never be broad enough,

or strong enough, and how I

love them too, though I raise my hands

which is not enough either.

This poem first appeared in Two Seasons (Muse Pie, 1993).

Used here with the author's permission.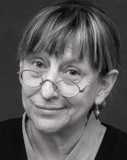 Phebe Davidson is the author of 23 published collections of poems. A retired English professor, she thinks of herself as a recovering academic. Still up to her neck in poems, she is the founding editor of Palanquin Press, a contributing editor for Tar River Poetry, and a staff writer for The Asheville Poetry Review. She also serves on the Board of Governors for the South Carolina Academy of Authors. Her poems and essays appear in print journals and on the web. She lives in Westminster, SC with her husband Steve and their cat Fripp.
Gilbert Allen:
A lovely poem with just enough details to help readers make their own imaginative extensions. Well done, Phebe!
Posted 05/01/2012 10:26 AM
69Dorcas:
When we are passionate, it is never enough. Thank you.
Posted 04/28/2012 10:21 PM
r1manchester:
ms. phebe...perhaps your poem makes up for the "not enough". nice, as always>
Posted 04/28/2012 10:31 AM
Judith Heron:
I love a poem that moves me, wants me to get up and do something! I vow to go again to my neighbour's daughter's play...last year a marvellous Dorothy...and to her brother's soccer game, if I must. Such small hours, really, under the canopy of youth. Thank you, Phebe for this exquisite invitation.
Posted 04/28/2012 09:56 AM
KevinArnold:
Yes, wonderfully precise.
Posted 04/28/2012 08:47 AM
Kathe L. Palka:
Tender, moving, beautiful.
Posted 04/28/2012 07:47 AM
Donal Mahoney:
Another quietly wonderful poem by a quietly wonderful poet finally introduced to me by Your Daily Poem. Thank you.
Posted 04/28/2012 06:38 AM