Call it phonographic memory
when every turn of conversation
recalls to mind another song.
Call it conditioned response
to thirty years of Sunday's hymns
hiccuping in your head through Tuesday.
Or blame it on breeding,
you children of mothers who sing.
Reared on jingles and arias,
you are unwitting musical echoes
of your mother's youth; you are
all the songs she wants not to forget.
When people wonder why even their flattest
comment becomes your occasion for singing,
say you are investing your sole inheritance--
not more nor less than half a refrain
as return on every remark.
Tell them your mother says
you do not have an annoying habit;
you have antiphonal brilliance.
You have been blessed with 
good repertoire, your mother says;
you are lyrically well-endowed.

From Our Bodies Remember (Sow's Ear Press, 1999).
Used here with the author's permission.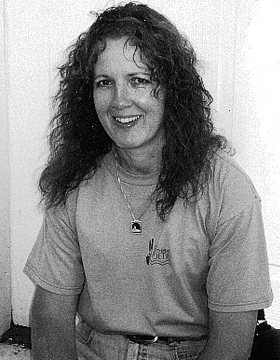 Dana Wildsmith is the author of four collections of poetry and a memoir, Back to Abnormal: Surviving with an Old Farm in the New South. Born and raised in rural South Georgia, she traveled extensively as a Navy wife before settling in Bethlehem, Georgia, on a century-old family farm outside Atlanta. Dana's love of family, nature, music, tradition, and life's simple joys is the focal point of her poignant, compelling work, which has been featured in numerous journals, magazines, and anthologies, including the highly acclaimed Listen Here: Women Writing in Appalachia. She is a gifted, generous teacher as well, sharing her passion for language from ESL classes at Lanier Technical College to residencies acoss the country. Most recently, Dana has been named as a finalist in the essay category for the Georgia Author of the Year. Learn more about her at www.danawildsmith.com.
loisflmom:
Make that "tone deaf". I sing better than I type!
Posted 05/13/2012 09:14 AM
loisflmom:
I "am" that mother. But it was not just 30 years of hymns, but many years at Girl Scout camp that gave me my song-for-every-occasion repertoire. My children roll their eyes, and my tode deaf hushand is amused. Thanks for this!
Posted 05/13/2012 09:13 AM
Jean Colonomos-1:
This poem rings with vitality for me. Unfortunately, I'm not "lyrically endowed" as my mother was tone deaf. But she sang in other ways. Happy Mother's Day y'all.
Posted 05/13/2012 08:31 AM
dotief@comcast.net:
As the child of a 40s tunes lover, I can easily relate to all that this poem conveys (although, it was my father who played Mitch Miller records until my ears ached). My father belted out the old songs with a rich, clear voice. How I miss that.
Posted 05/13/2012 07:31 AM