A stand of dark red trillium

White violets and crested dwarf iris

sit quietly at trail's edge. Birdsong begins.

Butterflies dance. Jack in the Pulpit presides.

River birch, pine and poplar stand tall.

Rippling water stills my thoughts.

Soon pink lady slipper will bloom,

then purple rhododendron.

I know every season at this forest.

I fell in love here long ago,

found comfort on this path,

met parts of me I did not know,

told secrets never spoken.

I fill myself with peace and hope when I am here

then give it all away when I am gone.

This poem won 1st place in the Joyce Kilmer Memorial Forest 75th Anniversary Poetry

Competition.

Used here with the author's permission.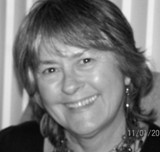 Mary Ricketson lives in Murphy, North Carolina. Author of one chapbook, I Hear the River Call My Name, her poems have appeared in numerous publications and blogs. First place winner in the 2011 Joyce Kilmer Memorial Forest national poetry contest, and winner of the gold medal for poetry in the 2011 Cherokee County Senior Games/Silver Arts, Mary writes a monthly column, "Woman to Woman," for The Cherokee Scout, and is a member of the North Carolina Writers Network. A mental health counselor and farmer, Mary says she writes "to satisfy a hunger and to taste life all the way down to the last drop." She gains perspective from family and friends, her home in Appalachia, and her life's work as a counselor, and says, "Writing poetry places me in kinship with my own life."
MiddleChild:
Your poem cannot help but slow my thoughts, heart rate and breathing. A calming, beautiful piece. Thank you for sharing.
Posted 06/07/2012 08:35 AM
rcstewart3:
I love this poem! It filled me with peace much needed at the moment. It is a reminder of what is good and inerrant in life when so much else falls short.
Posted 06/05/2012 02:46 PM
jeanie:
there's a trail in N.C. that is the prettiest trail I have ever walked .. maybe this is it! full of wooden bridges and rhododendrons. i dream of it from WI ;-) -- lovely poem
Posted 06/04/2012 07:23 AM
dotief@comcast.net:
This poems offers so much peace. I love it! It was a nice complement to my happy birthday!
Posted 06/03/2012 08:21 AM
69Dorcas:
Lovely.
Posted 06/02/2012 11:57 AM