Do you remember afternoons

dumping out the can of coins

and counting them with dad?

Ten pennies made a tower;

†

He did nickels, dimes, and quarters.

I was the princess of pennies.

†

I loved those rolls in my hand,

their shape and heft had power.

and traded them for treasure

down at the corner. Beer for him

and a Hershey bar for me.

Now, I take my coins to the bank,

No time spent, no towers.

Minutes later, the teller returns

my pocket full of dollars.

†

From A Brief History of Mail (Pebblebrook Press, 2011).

Used with the authorís permission.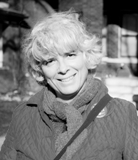 Lisa Vihos began writing poetry in college, then changed directions and was an art museum educator for twenty years. In 2007, she returned to poetry, her first love; she is now the author of two chapbooks (A Brief History of Mail, Pebblebrook Press, 2011, and The Accidental Present, forthcoming this summer from Finishing Line Press), works as an associate editor for Stoneboat Literary Journal, and is an occasional guest blogger for the The Best American Poetry. Lisaís work has appeared in numerous small journals, most recently in the anthology, Villanelles (Everyman's Library). Currently the alumni director of Lakeland College, she lives in Sheboygan, Wisconsin, where she enjoys Lake Michigan, cooking, movies, reading, bicycling, listening to her teenage son play guitar, and zumba--not necessarily in that order.
†
Buckner14:
"Princess of pennies"--a wonderful phrase. And those last three lines end the poem with a punch.
Posted 06/13/2012 08:39 AM
mimi:
"the princess of pennies" love that line, Lisa, and the poem! Sharon Auberle
Posted 06/13/2012 07:41 AM
wordsmith:
Wonderful poem, Lisa. Do you remember how your hands smelled after stacking and wrapping the coins? I sure do. Cheers, Mandi
Posted 06/13/2012 06:55 AM