I didn't know when summer was —

didn't know that solstice

was the beginning of its end;

 

filled the cares of our lives,

 

like soft ice cream overflowing

 

anticipation conditioned by the truck's

tinkling sounds — a music box on wheels

winding its way through the neighbourhood,

 

approaching slowly like adulthood

 

Such creamy-white coolness,

were just pretty pictures —

of the seconds of our lives

 

Used with the author's permission.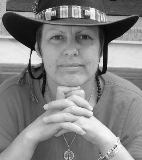 Jana spent her childhood picking wild blueberries and mushrooms in the ancient hills of Bohemia. She then moved to Australia, where it was really hot, then to Canada, which was a blessing for the avid naturalist and animal lover. After earning her degrees, Jana freelanced and worked at a few newspapers, eventually switching to social services and the educational system. Life in Victoria, BC, with a terrific husband and two wonderful — but uncooperative — wired-haired basset hounds, provides her with ample access to natural spaces all year round. Jana's conversion to poetry was sudden and complete. She's working on her first book manuscript.
69Dorcas:
To live forever and not count the days.
Posted 06/26/2012 12:27 AM
Wilda Morris:
Well put! A wonderful poem.
Posted 06/20/2012 07:01 AM
mimi:
so, so true...and beautiful... Sharon Auberle
Posted 06/20/2012 05:28 AM