I started Early — Took my Dog —
And visited the Sea —
The Mermaids in the Basement
Came out to look at me —

And Frigates — in the Upper Floor
Extended Hempen Hands —
Presuming Me to be a Mouse —
Aground — upon the Sands —

But no Man moved Me — till the Tide
Went past my simple Shoe —
And past my Apron — and my Belt —
And past my Bodice — too —

And made as He would eat me up —
As wholly as a Dew
Upon a Dandelion's Sleeve —
And then — I started — too —

And He — He followed — close behind —
I felt his Silver Heel
Upon my Ankle — Then my Shoes
Would overflow with Pearl —

Until We met the Solid Town —
No One He seemed to know —
And bowing — with a Mighty look —
At me — The Sea withdrew —


This poem is in the public domain.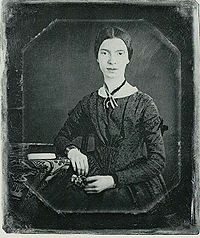 Emily Dickinson (1830 – 1886) is considered a major American poet, though she was not accorded this honor until well after her death, when her younger sister discovered and began to share the enormous body of work that Emily left behind. A recluse who almost always wore white, Emily was born to a prominent Massachusetts family and spent the bulk of her life inside her home in Amherst. Only seven of her poems were published during her lifetime, and virtually none were published as originally written until the mid 1950s. (Emily's odd punctuation, capitalization, and formatting did not meet with standard publishing "approval" for earlier editions.) There is a whimsical nature to many of her poems, although the subject of death was the most frequent recurring theme.
69Dorcas:
Does her versing seem a little like elongated Haiku?
Posted 06/22/2012 05:05 PM
marenomitchell:
How much we owe her.
Posted 06/22/2012 08:36 AM