I meant to do my work today—
   But a brown bird sang in the apple tree,
And a butterfly flitted across the field,
   And all the leaves were calling me. 

And the wind went sighing over the land,
   Tossing the grasses to and fro,
And a rainbow held out its shining hand—
   So what could I do but laugh and go?
This poem is in the public domain.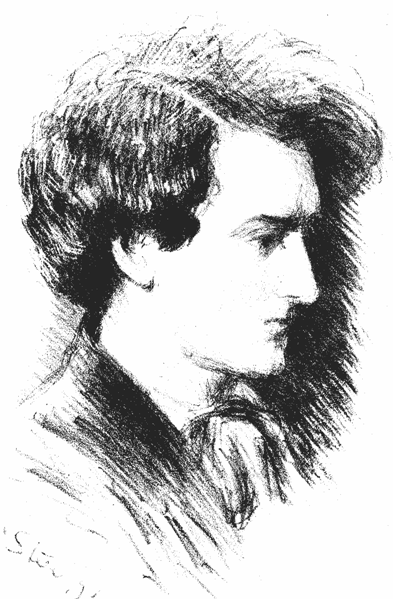 Richard Le Gallienne (1866 -  1947) was born in Liverpool, England. A contemporary of Oscar Wilde and W. B. Yeats, he was widely published but tended to be more of a romantic than his counterparts. He moved to the U.S. in 1903, hoping to breathe new life into his writing career, but his continued preference for sentimental styling kept him out of sync with American tastes of that time. He moved to Paris in 1927 and began writing a weekly column for the New York Sun, which was a perfect venue for his romantic style of writing . A compilation of some of those columns won Le Gallienne an award for "best book about France by a foreigner."  In the course of his life, Le Gallienne wrote nearly ninety books and innumerable articles.
zyylo:
A slightly modified version of this poem is in the Friends 1971 movie. The last paragraph words were altered to conform with the movie plot. Very nicely done. You can also download the Elton John's Rare Masters recording on iTunes. song 17. Though I recommend downloading the entire soundtrack songs #10-#19. The music captures the feel of LeGallennes poem.
Posted 04/13/2021 10:26 AM
Old Russian Soul:
This poem was so well adapted with lovely music to the French teen romance movie "Friends"(1971). The soundtrack is an amazing way to escape for a moment in time.
Posted 09/29/2020 11:21 AM
Rita Godfrey:
This is my favourite poem of all time and my life's mantra
Posted 10/25/2018 09:52 AM
eileentracybrennan:
this poem reminds me of my sister Carole - in Cape Breton - she lived this!
Posted 12/21/2016 08:18 AM
aptdoc:
I memorized this poem almost 50 years ago, in 7th grade. It still calls me, in spite of or because of being an overly busy physician!
Posted 10/22/2014 09:32 AM
69Dorcas:
I can easily step into this reflection. Sorry to hear that the USA was not ready for him at the time. Gentleness is so badly needed.
Posted 07/06/2012 10:10 AM
KevinArnold:
Great find. The title made me cringe as my mind rushed to my own work . . . but the poem's lightness brightened my day.
Posted 07/06/2012 08:36 AM
Larry Schug:
Astute observation and great outlook, Kay. Cool little poem.
Posted 07/06/2012 08:25 AM
Wilda Morris:
Ah, yes! I can identify with this!
Posted 07/06/2012 08:17 AM
Kay Sanders:
This poem is my motto! Wonderful similarities between childhood and retirement.
Posted 07/06/2012 05:39 AM