Dolphins leap in the dawn,
their silver backs shedding
sparks of foam, their rhythm
a heartbeat beyond the breakers.
†
they raise salt into the wind
as they follow schools of fish
†
Tonight when they rest in the swells,
swimming with half-closed eyes,
blowholes open to the air,
they will listen for one another
and for the turning Earth
whose moon sounds the tides
††††††††††††††††† and perhaps
they will dream of the stars,
pale phosphorescent ancestors
whistling faintly to them
from the distant currents
†
From Lizard Light: Poems from the Earth (Sherman Asher).
Used with the authorís permission.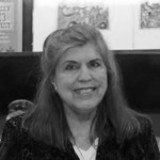 †Penny Harter is a poet and teacher whose work appears in many print and online journals and anthologies. She has received fellowships from the NJ State Council on the Arts, the Poetry Society of America, and the Virginia Center for the Creative Arts. She also received the William O. Douglas Nature Writing Award, and was invited to read at the 2010 Geraldine R. Dodge Poetry Festival. After her husband's death in 2008, Penny moved to the South Jersey shore area to be near her daughter and family. She has many collections of poetry in print; her most recent books are a children's alphabestiary, The Beastie Book, and Recycling Starlight, a chapbook of poems reflecting her grief during the eighteen months following her husbandís death. With her late husband, William J. Higginson, Penny co-authored The Haiku Handbook. Her prizewinning collection of haibun (poetic prose pieces with haiku integrated into them), One Bowl, will be published online this summer by Snapshot Press (England). Learn more about Penny here.
†
†
†
†
†
Eiken:
Beautiful poem!!
Posted 07/13/2012 10:30 AM
penhart:
Thank you all so much for your kind comments about my poem. I have always been fascinated by dolphins and would love to swim with them some day. Dream on . . . And although "Lizard Light" is from the nineties, the poems in it matter as much, if not more, to me today in this time of ecological challenge.
Posted 07/12/2012 01:52 PM
Abigail :
A beautiful, fresh poem. Makes me want to dive into the ocean and play. Thank you, Penny
Posted 07/12/2012 12:57 PM
KevinArnold:
Wonderfully done. Dolphins are a part of the draw of the ocean. The Pacific too.
Posted 07/12/2012 11:17 AM
dotief@comcast.net:
I love the description of the sleeping segment of the porpoise's life. Beautiful images! And since I am at the beach at this very moment,the poem is most appropriate.
Posted 07/12/2012 11:04 AM
loisflmom:
Penny, beautful, beautiful! Dolphins are amazing, graceful creatures, and I watch for them almost daily.
Posted 07/12/2012 10:35 AM
Carol Hauer:
Beautiful imagages. Lovely allusion to "star-stuff." Sun, moon, stars...gorgeous.
Posted 07/12/2012 08:05 AM