M

y

house,

I say. But hark to the sunny doves

That make my roof the arena of their loves,

That gyre about the gable all day long

And fill the chimneys with their murmurous song:

Our house,

they say; and mine, the cat declares

And spreads his golden fleece upon the chairs;

And mine the dog, and rises stiff with wrath

If any alien foot profane the path.

So, too, the buck that trimmed my terraces,

Our whilom gardener, called the garden his;

Who now, deposed, surveys my plain abode

And his late kingdom, only from the road.


This poem is in the public domain.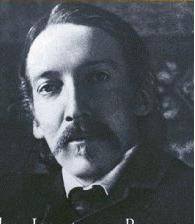 Scottish writer Robert Louis Stevenson (1850-1894) is, for many of us, the first poet to whom we were introduced, through his wonderful book, A Child's Garden of Verses. Though he came from a family of engineers and it was expected he would follow suit, Robert wrote stories even as a child; no one was really surprised when, three years into his engineering studies at the University of Edinburgh, he abandoned them to study writing. Always an avid traveller, despite lifelong poor health, Robert spent much of his life looking for a place to live that offered some respite from his illnesses. A prolific writer of poetry, fiction (Kidnapped, Treasure Island, and The Strange Case of Dr. Jekyll and Mr. Hide are his best known), travelogues, and political essays, he is properly revered today as a major literary figure, although in the early twentieth century, he was temporarily dismissed and disdained as "a children's author." Ultimately, Robert ending up living in Samoa, happy and productive until a stroke abruptly ended his life at the age of 44.
Joe Sottile:
Clever!
Posted 07/14/2012 06:15 PM
Marilyn L Taylor:
Stevenson is a delight, always, and who can't relate to this poem? Wish the literary historians treated him with a little more respect as a poet.
Posted 07/14/2012 12:06 PM
KevinArnold:
RL Stevenson seldom misses, certainly not with this one.
Posted 07/14/2012 09:10 AM
Julianne Carlile:
I still have my copy of a Child's Garden of Verses.
Posted 07/14/2012 07:09 AM