To bring us to our knees.
To bring us back to quiet.
to this labor and attention.
†
†
start with something new.
†
upon a cool and shady sill.
†
in the morning glory vines.
The ardor of the marigold.

†
From Taylorís Encyclopedia of Gardening in Pity the World: Poems Selected
and New (Plainview Press, 2005).Used with the authorís permission.
†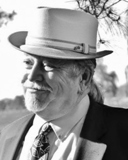 Bruce Taylor is the author of seven collections of poetry, and editor of eight anthologies. Poet Laureate of Eau Claire, Wisconsin from 2011 - 2016, he is currently waging a losing war on the critters eating his garden.
Jo:
I just came in from capturing the beetles in the hyacinths, from watering with my big can the thirsty-draught-ridden roses, grateful for the way in which the garden always nurtures and fills me. Loved your poem.
Posted 07/22/2012 02:03 PM
Katrina:
I planted my grapevine in a June thunderstorm. Today, inspired by Bruce's poem, I have been training the tendrils around wrought iron railings. Presently I shall convert that water into wine.
Posted 07/22/2012 11:52 AM
John:
What a fine harvest from this poem!
Posted 07/22/2012 09:52 AM
Larry Schug:
We're heading out to the garden now to pray-yes, I agree-and work and to do battle with that dang woodchuck who is smarter than two college grads! Nice poem; like all good poetry, it says a lot with a little.
Posted 07/22/2012 09:38 AM
dotief@comcast.net:
So nice! Makes me want to weed!
Posted 07/22/2012 09:10 AM
Janet Leahy:
Lovely first line to bring us into the poem, and "the intensive care of the present" an additional benefit to the gardener, to attend to the loveliness of the moment, especially this week.
Posted 07/22/2012 07:46 AM
Kay Sanders:
This poem captures so well the world of gardening--and of worship. Love the lines,"intensive/ care of the present."
Posted 07/22/2012 07:21 AM
Gary Busha:
Yes. Well planted, watered, and nurtured.
Posted 07/22/2012 07:10 AM