Morning yawns through my window,
curtains dance to the swish of the sea.
A lemon field sleeps under the mountains
plum purple with perfumed heather.

Hedgerows pink with blackberry blossom
stoppled with white trumpets of bindweed.
Pine cones scatter the path to the beach,
the air fused with damp seaweed.

Church bells chime down the hillside,
the village stirs under a honeysuckle sky.
Life peeps from geranium doorways
as the blush of a new day blooms.
© by Máire Morrissey-Cummins.
Used with the author's permission.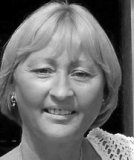 Máire was born in Tramore, Ireland, but presently lives in Greystones, County Wicklow, after living abroad for many years, mainly in Holland and Germany. After a lifetime working, Máire is early retired, new to poetry, and enjoying this creative period of her life. A member of the Irish Haiku Society and Haiku Ireland, Máire has been published in Irish anthologies, journals, and magazines as well as online and abroad. Learn more about her here.
69Dorcas:
So much in a morning once it awakens.
Posted 07/30/2012 08:45 PM
Barbara :
So beautiful. Maire.... .A joy to read?.such a painterly approach full of midsummer warmth... XX
Posted 07/30/2012 04:57 PM
marenomitchell:
A vacation within itself!
Posted 07/30/2012 11:05 AM
CamilleBalla:
Absolutely beautiful and wonderfully poetic!
Posted 07/30/2012 09:05 AM
Carol Hauer:
Just beautiful. Fantastic images.
Posted 07/30/2012 08:26 AM
dotief@comcast.net:
This is a very different beach from the Florida one I know, but I still love it! And this poem about it as well!
Posted 07/30/2012 08:01 AM
Janet Leahy:
"Morning yawns" what a lovely way to come into a poem, vivid images entice the reader to call Aer Lingus and book a flight!
Posted 07/30/2012 05:46 AM
Kay Sanders:
Beautiful!
Posted 07/30/2012 05:42 AM