Watermelons are boys.
What else explains it?
Look at the mess they make of gardens,
growing sleek as torpedoes or
round as basketballs
under a tangle of greenery
impossible to tame.

Nothing like cantaloupe.
They're ladies,
voluptuous and full,
sunning themselves amidst the flowers,
accenting their decolletage
with a filigree of white lace
over the swell of their budding fruit.

Watermelons wear camouflage
and wallow in the mud,
their skin hard and shiny
from all that water they slurp.
Thump one on the head
all you hear is hollow thunk.
Sniff one, all you smell is dirt.

Cantaloupe are subtle.
They know girl games
and the value of pastels,
working a palette from pale green to golden yellow
to get what they want.
They're full of secrets and seeds
guarded like riches deep inside.

Cut into a watermelon
they stare at you with naked contempt,
promising a fight to the end:
a buried minefield of
slick black seeds
lurking under all that blood
red flesh.

Cantaloupe know how to behave in public.
They invite the knife,
seduce the spoon.
They are there to be scooped
in modest mouthfuls,
treasured on the tongue for their sweet
orangy fullness.
© by Mike Orlock.
Used with the author's permission.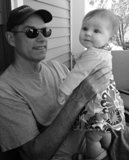 Mike Orlock is a retired high school English and American History teacher who splits time between the Chicago suburbs and a vacation home in Sturgeon Bay, Wisconsin. He has been married 37 years to his high school sweetheart and inspiration, Liz. His short stories, poems, and reviews have appeared in a variety of publications such as Reporter-Progress newspapers, The Peninsula Pulse, VerseWisconsin, TriQuarterly, and the Wisconsin Fellowship of Poets annual calendar.
loisflmom:
I LOVE this poem! Almost as much as I love cantaloupe while my husband does battle happily with watermelon.
Posted 08/13/2012 03:10 PM
LindaCrosfield:
Just read this to my almost-nine grandson. Such fun to read aloud. Explained personification to him. Great fun!
Posted 08/13/2012 01:39 PM
marenomitchell:
This poem makes watermelons and cantaloupes live for me as never before - absolutely delicious!
Posted 08/13/2012 12:13 PM
dotief@comcast.net:
This poem is wonderful and spot on!
Posted 08/13/2012 10:13 AM
rtaylor947@aol.com:
I can "hear" the shifts from masculine to feminine in Mike's diction and tone. Great job.
Posted 08/13/2012 08:17 AM
nancy scott:
Now that's a poem I haven't heard before. Witty and wonderful.
Posted 08/13/2012 07:48 AM
Charly:
This is a great poem. Made me smile and smile!
Posted 08/13/2012 06:58 AM
LisaV:
great observation and well-expressed!
Posted 08/13/2012 06:25 AM