I see it as it looked one afternoon
In August,—by a fresh soft breeze o'erblown
The swiftness of the tide, the light thereon.
A far-off sail, white as a crescent moon.
The shining waters with pale currents strewn,
The quiet fishing-smacks, the Eastern cove,
The semi-circle of its dark, green grove.
The luminous grasses, the merry sun
In the grave sky; the sparkle far and wide
Laughter of unseen children, cheerful chirp
Of crickets, and low lisp of rippling tide
Light summer clouds fantastical as sleep
Changing unnoted while I gazed thereon
All these fair sounds and sights I made my own.

 

This poem is in the public domain.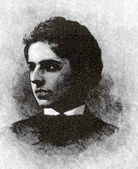 Emma Lazarus (1849 – 1887) was a poet, essayist, translator, novelist, and playwright. Born in New York City, she is best known for her sonnet, "The New Colossus," which is engraved on America's Statue of Liberty. Emma's father, a prosperous sugar merchant, paid to have her first collection of poetry published when she was seventeen. Ralph Waldo Emerson happened upon the book, expressed his admiration for her work, and the two became lifelong friends. Emma worked tirelessly to educate and assimilate Jewish immigrants arriving in America and is acknowledged today as much for her activism as for her writing.
Larry Schug:
This is a fine poem we poets could all learn from. In my eyes, it has that elusive quality I call "texture". Hard to define,but it's there.
Posted 08/15/2012 09:13 AM
KevinArnold:
I agree with Dotie and also say the Sound hasn't changed terribly. This reminded me of experiences as a young boy there.
Posted 08/15/2012 08:34 AM
dotief@comcast.net:
Beautiful. I love how a place and time can be so easily be translated by poetry to a future generation.
Posted 08/15/2012 08:09 AM