Sue suggests we rob a bank
If caught, they wonít keep us
Not easy to detain,
not feasible to confine

She in her wheelchair,
her muscles abandoned
I, in my seizures,
brain surgeries failed

I think of us as bandits
Loving the idea,
appreciating the humor,
we sit and we laugh

My aunt called today
Becoming blind in one
eye, unsure if it will
happen in the other

Scared, also stubborn,
she gives it a laugh
Still driving,
not willing to yield

As I speak of our plan,
that we could use a third,
her chuckle
cascades into laughter

Our ally, the absolute
accomplice
Three outlaws
in her getaway van†


This poem was previously published in Caduceus.
Used here with the authorís permission.
†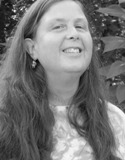 Kathleen Grieger lives in Menomonee Falls, Wisconsin, in land covered with ponds, flowers and ferns. Facing brain surgery, she returned to the writing she had set aside for years, keeping track of and coping with--in her own way--all that was happening. In a conference with her medical team about risk versus success, the general consensus was that operating so close to Kathleenís language and speech area posed too great a risk and they would have to let nature take its course. Then a neurologist who was using Kathleenís poetry to help teach medical students stood and read some of her work, suggesting they could not sit by and watch this gift for words destroyed. The doctors decided to proceed with the surgery and, today, Kathleen continues to write. Her work has appeared in The Healing Muse, the Yale Journal for the Humanities in Medicine, Kaleidoscope, Blood and Thunder, and other secular and medical publications.
laurasalas:
Such an inspiring poem--and even more so with the backstory. Thank you!
Posted 08/23/2012 05:45 PM
Jo:
Thanks Kat. Have loved this poem from the moment I first heard it. So you!
Posted 08/23/2012 11:46 AM
Joe Sottile:
Absolutely amazing! Both poem and bio! Bravo!
Posted 08/23/2012 10:57 AM
transitions:
Thank you, Kathy ~ you and your insightful poem are an inspiration... Judy
Posted 08/23/2012 10:56 AM
KevinArnold:
Marvelous work.
Posted 08/23/2012 10:11 AM
Glen Sorestad:
A good example of how a poem can lift the spirits for a day. Thanks for this one!
Posted 08/23/2012 09:56 AM
ed werstein:
"Still driving, not willing to yield" Lines that could launch a hundred poems. A mantra for life.
Posted 08/23/2012 09:15 AM
John:
"Not easy to detain"--None of us can be detained for long. Fine work.
Posted 08/23/2012 08:42 AM
Janet Leahy:
Valiant in the title of your poem describes poet and poem. Loved this poem the first time I heard you read it and wonderful to see it here this morning. Thanks Kathy.
Posted 08/23/2012 08:40 AM
MaraPtacek:
Mara Ptacek A brave and wonderful poem as well as three brave bandits. Threaded Metaphors, our collaboration of poets and artists is exhibiting for the fourth time, UW-Waukesha, 2013. I remember how much our first exhibit meant to you just after you had surgery. Please come if you can.
Posted 08/23/2012 08:38 AM
paula:
I have always love this poem; it speaks to your spirit.
Posted 08/23/2012 08:33 AM
rtaylor947@aol.com:
At once droll, sad, uplifting, and the title is perfect.
Posted 08/23/2012 08:29 AM
jeanie:
very nice! brave. thank you!
Posted 08/23/2012 08:08 AM
Larry Schug:
Again, I am astonished at the power of poetry. If only society-at-large would tap into this power, it would be to the benefit of all. Keep up the good fight, poets. Thank you, Kathleen.
Posted 08/23/2012 08:06 AM
mimi:
astonishing courage...thanks for sharing...
Posted 08/23/2012 07:35 AM
vscholtz:
Thanks,Kathy. I love to hear the music that lives in your head.
Posted 08/23/2012 06:34 AM
lincolnhartford:
At first I thought this a bit of fun fiction, then I was afraid it wasn't. Well written. Not a spare word. Not to mention the courage couched in humor.
Posted 08/23/2012 06:21 AM