You're alive and riding your bicycle
to school and I am worried about you
riding your bicycle all the way to school
so I get in my car and drive like a maniac
through the dream over curbs and lawns
sideswiping statuary and birdbaths along
the way frantically seeking you everywhere
the rear wheel of your bicycle disappearing
around the next corner and the next and then
I am riding a bicycle too and sounding
the alarm which sounds like a bicycle bell
so no one believes it's an alarm and I pedal
faster and faster my knees bumping up against
the handlebars which by now have sprouted
ribbons with pompoms and a basket attached
with your lunch inside and I'm pedaling to save
my life and your life and finally when I find you
in the dream you aren't dead yet you're alive
and a little angry and embarrassed to see me
all out of breath on a girl's bicycle holding
your lunch out in my hand trembling with joy

From Bending the Notes (Main Street Rag, 2008),
and winner of a Pushcart Prize in 2009.
Used with the author's permission.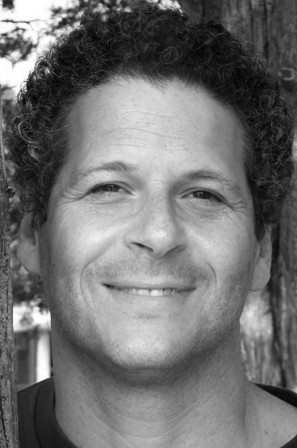 When he's not writing award-winning poems, Bostonian Paul Hostovsky makes his living as a sign language interpreter at the Massachusetts Commission for the Deaf and Hard of Hearing. He is the author of five chapbooks and four full-length poetry collections, including his latest, Hurt Into Beauty. To read more of Paul's work, visit www.paulhostovsky.com.
paula:
A great poem!
Posted 09/05/2012 12:36 PM
marenomitchell:
Great ending. Great punctuation!
Posted 09/05/2012 12:31 PM
kguelcher:
Heart-wrenching. A dream from a real-life nightmare. This is beautifully crafted and horrifically sad. The inverse of an anxiety dream, no?
Posted 09/05/2012 11:14 AM
peninsulapoet:
This poem captures anxious experience of parenthood. Love it!
Posted 09/05/2012 09:08 AM
Maryann Hurtt:
I would love to see this signed...great pace...great poem.
Posted 09/05/2012 08:09 AM
rtaylor947@aol.com:
Nice poem. Paced like the chase it describes.
Posted 09/05/2012 07:58 AM
Katrina:
Well delivered, Paul.
Posted 09/05/2012 07:02 AM
LisaV:
Now that is very nice poem.
Posted 09/05/2012 06:56 AM
jeanie:
fast and sweet
Posted 09/05/2012 06:49 AM