Of all the birds, they are the ones
who mind their being armless most:
witness how, when they walk, their heads jerk
back and forth like rifle bolts.
How they heave their shoulders into each stride
as if they hoped that by some chance
new bones there would come popping out
with a boxing glove on the end of each.
Little Elvises, the hairdo slicked
with too much grease, they convene on my lawn
to strategize for their class-action suit.
Flight they would trade in a New York minute
for a black muscle car and a fist on the shift
at any stale green light. But here in my yard
by the Jack-in-the-Box Dumpster
they can only fossick in the grass for remnants
of the world's stale buns. And this
despite all the crow poems that have been written
because men like to see themselves as crows
(the head-jerk performed in the rearview mirror,
the dark brow commanding the rainy weather).
So I think I know how they must feel:
ripped off, shook down, taken to the cleaners.
What they'd like to do now is smash a phone against a wall.
But they can't, so each one flies to a bare branch and screams.
From Luck is Luck: Poems (Random House, 2005), which was a finalist for the L.A. Times Book Prize
and was named a NY Public Library 2005 Book to Remember.  Also won the Kingsley Tuft Prize from Claremont University.
Used here with the author's permission.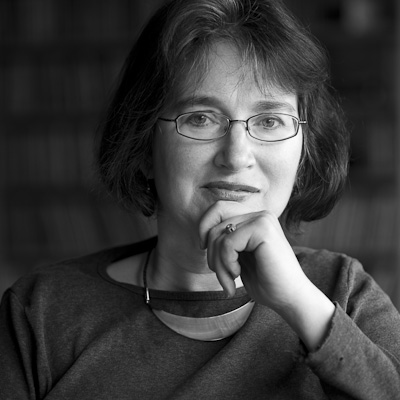 Lucia Perillo (1958 - 2016) wrote six award-winning books of poetry, a collection of essays, and a book of short stories. Winner of a MacArthur Foundation fellowship as well as many other major prizes, Lucia originally studied wildlife management and worked as a park ranger and a naturalist. Then, observing that a writer friend's life "seemed glamorous," she decided to pursue an MFA in creative writing and completely changed her career path.

ghctenmile@earthlink.net:
I'm thinking of taking this poem out into our piney woods and declaiming it to the crows who hang out there.--I'm betting they'll try to applaud or, at least, say something pungent. Thanks for writing this.
Posted 09/10/2012 07:23 PM
marenomitchell:
Thanks for the writing. Thanks for the sharing.
Posted 09/10/2012 01:45 PM
Larry Schug:
CRAWK! CRAWK! A crow with hands would give this poem a standing ovation.
Posted 09/10/2012 12:40 PM
wendy morton:
The cadence, the humor, the fine language. What a poem.
Posted 09/10/2012 11:53 AM
lincolnhartford:
I'm glad for your career path; glad to meet up with one of your fulsome poems. I recognize crows I know. Did you mention that they grieve like men also.
Posted 09/10/2012 11:29 AM
pwax:
And a great title.
Posted 09/10/2012 11:11 AM
pwax:
Men like to see themselves as crows--and crows would like to be one particular man. I love it!
Posted 09/10/2012 11:10 AM
Glen Sorestad:
A wonderful poetic treatment of the ubiquitous and under-appreciated Crow. Some startlingly apt images! Bravo, Lucia.
Posted 09/10/2012 10:43 AM