The bright wire rolls like a porpoise
in and out of the calm blue sea
of the cover, or perhaps like a sleeper
twisting in and out of his dreams,
for it could hold a record of dreams
if you wanted to buy it for that
though it seems to be meant for
more serious work, with its
college-ruled lines and its cover
that states in emphatic white letters,
5 SUBJECT NOTEBOOK. It seems
a part of growing old is no longer
to have five subjects, each
demanding an equal share of attention,
set apart by brown cardboard dividers,
but instead to stand in a drugstore
and hang on to one subject
a little too long, like this notebook
you weigh in your hands, passing
your fingers over its surfaces
as if it were some kind of wonder.
From Delights & Shadows © Copper Canyon Press.
Used here with the publisher's permission.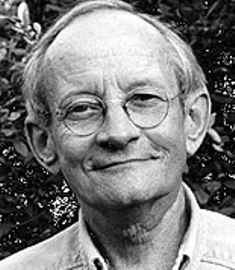 Ted Kooser spent 35 years in the insurance industry, earning his Master of Arts Degree from the University of Nebraska and writing poems every morning before he left for the office. Now one of the country's most highly regarded poets, he is widely admired for his simple, straightforward style and the discovery of beauty in ordinary things. While serving as United States Poet Laureate from 2004 through 2006, Ted created the American Life in Poetry project to provide newspapers and websites with contemporary American poetry and a brief analysis of each, at no charge. Author of twelve books and recipient of several honorary doctorates, Ted lives on in the country near Garland, Nebraska. Read more about him at www.tedkooser.net.
Joe Sottile:
Good one!
Posted 09/17/2012 05:08 PM
Glen Sorestad:
Brilliantly executed, Ted!
Posted 09/17/2012 09:36 AM
Larry Schug:
I love anything by Ted Kooser! After 35 years as Recycling coordinator at a small college I found slightly used notebooks by the hundreds; each one,a treasure. I've never bought a notebook and have a lifetime supply.
Posted 09/17/2012 09:03 AM
KevinArnold:
Oh yes, so simple and crafty: the use of ALL CAPS, the second person sneaking in, in wonder, at the end.
Posted 09/17/2012 09:02 AM
Wilda Morris:
One of my favorites, too.
Posted 09/17/2012 07:48 AM
dotief@comcast.net:
No wonder Kooser was Poet Laureate! Very nice poem!
Posted 09/17/2012 07:38 AM