So long ago, I couldnít describe one
other than a book with pulpy pages
where I could gather signatures
of the famous or important, but as close
as I got to famed was my uncle
Bill, with wavy hair, who lived in Milwaukee.†
My grandfather might have shooed me away
when I asked, and my grandmother, hardly
notable unless it was for her rag rugs
or apricot glads or climbing roses,
was too busy for such silliness.†
Still, I had a book that I brought out
when I remembered it, maybe when I went
to the village theater to see bad beach
party flicks or Pat Boone swoonies.†
Could Pat drop by in the flesh or Annette
as Dee Dee in her prim two-piece?†Sadly,
I knew no one more famous than Shorty,
the grocer or Les, the butcher,†or Fang
who owned the root beer stand and Bob,
the tan and extra-dreamy life guard at the lake.†
†
†
Used with the authorís permission.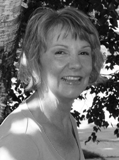 Karla Huston, Wisconsin's current Poet Laureate, lives in Appleton, Wisconsin. Author of six chapbooks of poetry, most recently An Inventory of Lost Things (Centennial Press, 2009), her book, Flight Patterns, won the Main Street Rag chapbook contest in 2003. She has earned numberous writing awards, including residencies from the Ragdale Foundation and Bread Loaf, and her work has appeared in many journals. Learn more about Karla at www.karlahuston.com.
Jo:
I thought Pat Boone was a dream--what was I thinking? But I still think the life-guard, bronzed, with duck-tail--remember those? well, he still has a place in my hall of fame. Thanks Karla.
Posted 09/20/2012 05:07 PM
69Dorcas:
If this is all that remains and what your memories consist of, then it is the autograph of your life. I think so,anyway.
Posted 09/20/2012 03:42 PM
wendy morton:
I think we should all have autograph books, let everyone sign them,even our grandmothers, famous for their rag rugs. Wonderful.
Posted 09/20/2012 11:01 AM
mimi:
I actually liked Pat Boone--egads...fun poem, Karla! Sharon Auberle
Posted 09/20/2012 10:04 AM
Marilyn L Taylor:
Karla, this poem continues to blow me away. So glad to see it here!
Posted 09/20/2012 08:31 AM
Gary Busha:
There are some writers now gone I regret not writing. A fine poem written by an excellent poet.
Posted 09/20/2012 08:17 AM
pwax:
Great details, Karla. I remember the pulpy pages. Thanks for the memories. Phyllis
Posted 09/20/2012 08:12 AM
Anjie:
Oh, yes, that "extra-dreamy" life guard - sigh - What I like about this poem is that it takes me back and gets me thinking about the "famous" people of my past and my obsession with my 110 camera. Thanks for that trip down memory lane.
Posted 09/20/2012 08:02 AM
Charly:
Great, Karla!
Posted 09/20/2012 07:05 AM
LisaV:
Great poem, Karla. I can see "extra-dreamy" Bob and know how that girl felt.
Posted 09/20/2012 06:51 AM