in all its subdued colours;

and resident squirrels, too

Used with the author's permission.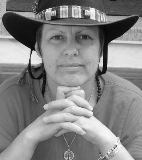 Jana Kalina was born in Bohemia (in the Czech Republic), spent her childhood in Australia and Canada, then traveled and lived in Europe as a young adult. After earning degrees in sociology, psychology and applied communications,she worked as a freelance writer/photographer, but eventually chose a career in social services and education. Today Jana lives in Victoria, British Columbia, with her husband and two wonderful, but uncooperative, wired-haired basset hounds. She is working on a book manuscript.
judithc:
Evocative...of all our autumns.
Posted 10/06/2012 09:18 AM
Eiken:
Beautiful Jana, love the imagery.
Posted 10/06/2012 04:21 AM