I loved the flat sassy
bodies of my paper dolls:
movie queens,
hands on hips,
lips in a frozen pout,
glamour pusses
in tab-on fur capes.
More, I loved cardboard
Dale Evans,
Queen of the Cowgirls,
in her fringed suede jacket
and high-strutting boots.
Days, she rode Buttermilk
roping outlaws with Roy.
At sundown,
when she clicked her spurs,
buttermilk biscuits popped
from her oven. She sopped
them in syrup,
fed them to Roy.
Dale never got sticky,
never dropped a crumb,
never wore an apron,
was never jealous of Trigger
who shared their bed
whinnying and snorting
till sun up.
From Traveler in Paradise: New and Selected Poems (PEARL Editions, 2004).
Used here with the author's permission.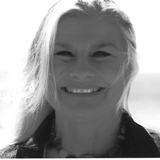 Donna Hilbert writes and teaches private workshops from her home in Long Beach, California. Her newest book, The Congress of Luminous Bodies (Aortic Books), is scheduled for release this fall. Featured in the documentary, "Grief Becomes Me: A Love Story," Donna's poems have been published in both French and Italian. Learn more about her at www.donnahilbert.com.
.
barbara eknoian:
Loved those paper doll days. Great memory.
Posted 10/31/2012 10:24 PM
judithc:
Lovely, fun, crazy, smart...took me back to the old days. Thanks.
Posted 10/30/2012 11:13 AM
mimi:
hello Donna, fun poem, thanks! Sharon Auberle
Posted 10/30/2012 07:59 AM
Katrina:
This radiates power!
Posted 10/30/2012 07:09 AM
erinsnana:
I LOVED this poem!!!!!!
Posted 10/30/2012 07:07 AM