I lift the lopper off the hooks on the wall

and eye the bush, like a sculptor

imagining the shape inside a piece of marble

The flowers have faded, the leaves are curling up

and dropping to keep the roots warm.

It's sad to cut back the old flower heads

to reach in and cut the green but errant branches,

but I feel freer as I reveal the shape that I imagine

when double the fullness comes back next year.

As the flowers come into bloom, it will draw the eye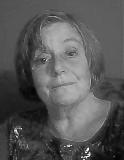 Stephanie Lynch lives in New Hampshire, where she has worked for more than thirty years as a clinical psychologist.in private practice. Divorced for many years, with three grown children, she says, "At sixty, I feel like I am going through a rebirth; all the thoughts, learning and experiences I have had over the past many years are demanding to be put to paper and shared." Stephanie likes to write poems that are easy to visualize, focus on everyday life, and leave the reader with something meaningful to think about.
transitions:
Lovely poem; thanks Judy
Posted 11/01/2012 10:20 AM