When it's break time
the girls all walk together,
cigarette-protector cases
clasped between their index

tapers and their thumbs.
On each girl's fingers glow
iridescent lacquers.
When break time nears,

they peek at each other,
twinkle, giggle, nod.
When break time comes,
a bell rings and the girls rise

like Lazarus. High on heels
they click in couples down the hall
to fill an elevator.
They get off at One. There

they float across the cafeteria,
men everywhere,
eyes everywhere.
(Is he the one?)

When a new girl's hired
the old girls
put her to the test:
Will she join them

for the coffee break?
If she does, she joins them forever,
even after she marries,
retires or expires.
© by Donal Mahoney.
Used with the author's permission.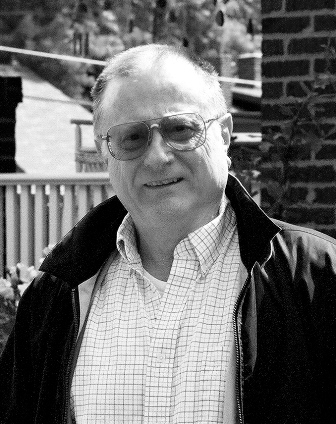 Donal Mahoney lives in St. Louis, Missouri. A native of Chicago, he spent the early Seventies actively submitting poems to print journals and enjoyed some success. He then took a 35-year hiatus from poetry to work as an editor of prose at such lofty establishments as the Chicago Sun-Times, Loyola University Press, and Washington University in St. Louis to support and educate five children. Upon retirement, Donal took to his recliner, and was perfectly happy sitting and listening to Gregorian chant all day. After three years, however, his wife interrupted with a Gregorian chant of her own. She bought Donal a computer and showed him where the boxes of still-unpublished poems had been stored in the basement for many years. Thus Donal began actively submitting again in June 2008. He has since had nearly three hundred poems published here and abroad, an achievement he credits largely to his wife.
CamilleBalla:
I like 'high on heels' and you had me thinking it was written by one of the steno girls. As I reread it, it makes sense both ways--but there you are again. I like your writing style.
Posted 11/05/2012 02:21 PM
erinsnana:
I loved the images in this poem! I worked in an office in the late 60's, and though I was not part of a steno pool, I took shorthand for my boss (for whom I had a mad crush.) At 17, I actually remember thinking...if only he wasn't married with 3 little boys! PS did you meet your wife in the steno pool?? : )
Posted 11/05/2012 07:29 AM