I donít know what you went through
(or went screaming through you) over there.

But all appears forgotten
in the walkway from the plane.†

Your family beaming, still,
as you stride up a steady hill to the

WELCOME HOME someone (all of them?)
committed to cloth just knowing

you were coming back. And here you
stand. Back. Smiles and silence

all around. A hug, patiently,
for your mother. A shove, playfully,

for your sister. Then all there is
is your father. His tight grip. Tightening†

grin. Branded with a savage
kiss on both sides of your neck.

This poem appeared previously in The Chimaera (January 2008), the Tipton Poetry Journal (Fall 2010)†
and the anthology The Harsh and the Heart: Celebrating the Military (Silver Boomer Books, 2011).
Used here with the authorís permission.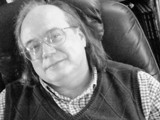 †
James Keane has worked in B2B magazine publishing, public relations, and advertising for the past 30 years. He earned bachelorís and masterís degrees in English Literature 100 years ago at Georgetown University, and his poems have been published in a wide assortment of journals and anthologies. James lives in northern New Jersey with his wife of nearly 27 years, his son, and assorted pets . He confesses that he will always root for the San Francisco Giants, and canít cook to save his life.
†
pwax:
You've captured the moment. And nailed it with a very strong ending! Thank you.
Posted 11/11/2012 12:03 PM
Larry Schug:
Been there. Done that. You got it right, James Keane. Thanks to all the vets who might read this. I hope you remember. I hope you forget.
Posted 11/11/2012 11:47 AM
mimi:
powerful poem, love the ending...
Posted 11/11/2012 08:15 AM
comer4:
That is powerful and deserves much attention from our hearts ... Thank you.
Posted 11/11/2012 08:15 AM
marenomitchell:
We don't know, do we?
Posted 11/11/2012 08:11 AM
erinsnana:
vivid images! I loved this poem.
Posted 11/11/2012 08:04 AM