I have banked the fires 
of my body 
into a small but steady blaze 
here in the kitchen 
where the dough has a life of its own, 
breathing under its damp cloth 
like a sleeping child; 
where the real child plays under the table, 
pretending the tablecloth is a tent, 
practicing departures; where a dim 
brown bird dazzled by light 
has flown into the windowpane 
and lies stunned on the pavement— 
it was never simple, even for birds, 
this business of nests. 
The innocent eye sees nothing, Auden says, 
repeating what the snake told Eve, 
what Eve told Adam, tired of gardens, 
wanting the fully lived life. 
But passion happens like an accident 
I could let the dough spill over the rim 
of the bowl, neglecting to punch it down, 
neglecting the child who waits under the table, 
the mild tears already smudging her eyes. 
We grow in such haphazard ways. 
Today I feel wiser than the bird. 
I know the window shuts me in, 
that when I open it 
the garden smells will make me restless. 
And I have banked the fires of my body 
into a small domestic flame for others 
to warm their hands on for a while. 
From Carnival Evening (W.W. Norton & Co., Inc., 1998).
Used with the author's permission.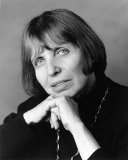 Linda Pastan grew up in New York City, graduated from Radcliffe College, and received an MA from Brandeis University. She has published 13 volumes of poetry, two of which have been finalists for the National Book Award; her newest is Traveling Light (W. W. Norton).  Linda's poems have appeared in many journals, including The Atlantic Monthly, The New Yorker, The Nation, and The Georgia Review. She has been Poet Laureate of Maryland, and in 2003 won the Ruth Lilly Poetry Prize for lifetime achievement. Linda lives with her husband in Potomac, Maryland; they have three children and seven grandchildren.
Jo:
Just able to get to this nurturing poem. "The fires of my body"--the poem that is fired within, that nourishes each of us. Thank you for such beauty, Linda.
Posted 11/18/2012 04:57 PM
transitions:
I love 'we grow is such haphazard ways'; how true. A poem that resonates on so many levels... Judy
Posted 11/18/2012 03:55 PM
marenomitchell:
Simmering with wisdom of a lifetime. Thanks.
Posted 11/17/2012 08:31 PM
Larry Schug:
I like this poem more with each reading. It wakes up all my senses, reminds me to pay attention. I think I'll read it again!
Posted 11/17/2012 05:12 PM
Nancy Simpson:
Layers and levels of understanding in this accomplished poem. Thanks for it.
Posted 11/17/2012 12:31 PM
lisa honecker:
phenomenal poem.
Posted 11/17/2012 12:19 PM
Gilbert Allen:
Yeats said that arguing with other people makes rhetoric, but arguing with yourself makes poetry. I think he'd find a good deal of poetry in this poem.
Posted 11/17/2012 11:56 AM
Joe Sottile:
Good one! Very good! It tugs at your heart.
Posted 11/17/2012 10:37 AM
Ginny C.:
Gorgeous poem. So many layers. Perfect Choice. Thanks for giving us this one today.
Posted 11/17/2012 10:26 AM
erinsnana:
love, love, love this poem! It took me on such a journey--one I'd been on in the past, but could never have expressed like this! Beautiful.
Posted 11/17/2012 10:10 AM
CamilleBalla:
Wonderfully written; great awareness on different levels. Oh yes, that domestic flame for others, especially at holiday time. I've stayed with this poem for awhile and on last reading haven't missed '...for a while.' *smile*
Posted 11/17/2012 09:59 AM
judithc:
How far-reaching, these 'fires of the body'....a true poet warming the nest, warming the reader outside the window. Beautiful, deep, true.
Posted 11/17/2012 09:43 AM
dotief@comcast.net:
Such powerful images created by the similes and metaphors! And there are so many layers of meaning and poignancy--I really love this poem!
Posted 11/17/2012 08:51 AM
KevinArnold:
I absolutely love this poem, what a gem. Hera and Aphrodite duke it out in the poet's kitchen. This round, but not necessarily the match, goes to Hera. Wonderful work.
Posted 11/17/2012 08:28 AM
Wilda Morris:
Beautiful, poignant, deep. What a wonderful start to the day - before I start the Saturday omelets, the fires of my body banked.
Posted 11/17/2012 07:54 AM
phebe.davidson@gmail.com:
I've loved this poem for years. Thanks for reprinting it here!
Posted 11/17/2012 07:30 AM
Janet Leahy:
The mystery of the dough, the child, the mother, all with a life of their own. I want to linger in this poem.
Posted 11/17/2012 07:10 AM
rksanders@charter.net:
Beautiful. Poignant.
Posted 11/17/2012 05:31 AM
LindaCrosfield:
All the way out to Auden and back, thanks to banked fires. Love this.
Posted 11/17/2012 04:05 AM