the air is crisp and chill,
lawns iced with frost.
Except for a lone crow
cawing a hole in the silence,
the earth remains still,
wrapped in thanksgiving.

© 2011 by Merle Hazard.
Used here with the author's permission.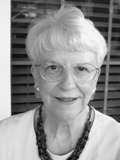 Merle Hazard lives in Macon, Georgia. Her poems have appeared in a number of secular and inspirational publications. A home health and hospice nurse for many years, she worked as a director of programs as well as at bedsides. Now retired, Merle enjoys reading, walking, playing bridge, and spending time with friends and family--including her two sons and five grandchildren.
laurasalas:
Love this! These short, delicate but strong poems are the ones that speak directly to me.
Posted 12/05/2012 09:28 PM
Ginny C.:
lovely poem
Posted 11/23/2012 08:28 PM
Wilda Morris:
"cawing a whole in the silence" - great line in a tight, expressive poem.
Posted 11/23/2012 02:24 PM
peninsulapoet:
Lovely.
Posted 11/23/2012 09:41 AM
Larry Schug:
Ah, the beauty of brevity! A "crow cawing a hole in the silence"--magnificent.
Posted 11/23/2012 09:06 AM