One has to wonder where they got
their reputation for pansiness.
Purple and proud, or any color
you might imagine, they grow
where they want to grow, despite the cold,
so much unlike their flashy cousins,
impatiens, petunias, scarlet sage,
petals falling off at first frost,
hardly hearty at all.
Keep your prima donna blossoms,
loud and boastful annuals, brief
and seedless. Iíll take the pansies
of the world, unassuming, resilient,
quietly doing what they know to do.

© by Scott Owens.
Used with the authorís permission.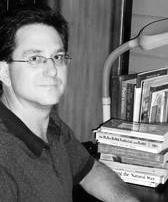 Scott Owens lives in Hickory, NC, with his wife and three children. Widely published and the recipient of numerous awards, he is the founder of Poetry Hickory, editor of†Wild Goose Poetry Review†and†234,†and vice president of the Poetry Council of NC. The first in his family to graduate from high school, Scott credits poetry with turning his life around.

†
Sarah Prince:
When my mother died in 1990 I was so bereft as we are when our mothers go. She was very fond of pansies and the color yellow. I was living in MD at the time but am a native of MA used to everything dying in hard freezes. That winter I noticed a yellow bloom peeking out of fallen leaves at the corner of my garden border. It was a pansy and it continued to greet me all winter lifting my spirit out of sadness.
Posted 11/30/2012 03:40 AM
twinkscat:
I like the analogy..wonderful way to support the underdog.
Posted 11/26/2012 07:57 PM
peninsulapoet:
A lovely poem and a good plan, to live one's life as a resilient flower.
Posted 11/26/2012 10:34 AM
KevinArnold:
It's about time to give pansies their due. Bravo!
Posted 11/26/2012 08:23 AM
phebe.davidson@gmail.com:
An admirable sentiment, this! And an admirable poem.
Posted 11/26/2012 06:15 AM