I take attendance, call the roll. Each child

answers: the sad child, the loud child, the doing-

well, grief-muted, visits-the-principal-

often children.   But not the one who doesn't 

hear any names called—the look on his face

blank as a sheet of copier paper, snow

storm in the Himalayas, desert where

sun can blind and throw up a mirage. Just

as the white noise of our classroom erases

our classroom, allows him to travel

wherever he is right now.   He is my

greatest hope for the future: he may be

 

Used with the author's permission.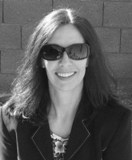 Paula Schulz has taught students in kindergarten, college, and a few grades in between. Involved with the Poetry People in Waukesha and, for the last two years, the Pewaukee Area Arts Council's ekphrastic project, Paula lives with her husband in Slinger, Wisconsin.
pwax:
I love the 2nd stanza! Good poem.
Posted 12/12/2012 09:04 PM
tiddles:
Individual muse time is so important. That need starts early and thanks to teachers like you, Paula, it is recognized and valued. Marilyn Zelke-Windau
Posted 12/11/2012 03:02 PM
barbara eknoian:
A wonderful, perceptive teacher.
Posted 12/11/2012 01:18 PM
transitions:
Yes, he Is a present. And it's teachers like you who unwrap the invisible paper and unfurl the ribbons. Thank you, Paula, as always, for the inspiration ~ Namaste, Judy
Posted 12/11/2012 11:38 AM
Ginny C.:
That child is present...somewhere. Loved this poem. As a teacher I saw myself in it. As a (former) child who was a day-dreamer, I saw myself in it. And I saw many of the students I've worked with, past and present (?) in it. And as a writer, I appreciated it too.
Posted 12/11/2012 10:50 AM
KevinArnold:
Good title, too.
Posted 12/11/2012 09:29 AM
ed werstein:
excellent poem.
Posted 12/11/2012 08:48 AM
mrsticket:
As a writer, teacher, and former child, I love this.
Posted 12/11/2012 08:18 AM
Gary Busha:
Yes. On an island and distant planet. Fine poem.
Posted 12/11/2012 08:10 AM
dotief@comcast.net:
Nice!
Posted 12/11/2012 07:43 AM
Janet Leahy:
I recognize each of these students and can hear the white noise of the classroom, thanks, Paula.
Posted 12/11/2012 07:35 AM
Katrina:
I love this.
Posted 12/11/2012 04:27 AM