I

Sing, Hey, when the time rolls round this way,
And the bells peal out, 'Tis Christmas Day;
The world is better then by half,
For joy, for joy;
In a little while you will see it laugh--
For a song's to sing and a glass to quaff,
My boy, my boy.
So here's to the man who never says nay!--
Sing, Hey, a song of Christmas-Day!

II

Sing, Ho, when roofs are white with snow,
And homes are hung with mistletoe;
Old Earth is not half bad, I wis--
What cheer! what cheer!
How it ever seemed sad the wonder is--
With a gift to give and a girl to kiss,
My dear, my dear.
So here's to the girl who never says no!
Sing, Ho, a song of the mistletoe!

III

No thing in the world to the heart seems wrong
When the soul of a man walks out with song;
Wherever they go, glad hand in hand,
And glove in glove,
The round of the land is rainbow-spanned,
And the meaning of life they understand
Is love, is love.
Let the heart be open, the soul be strong,
And life will be glad as a Christmas song.
This poem is in the public domain.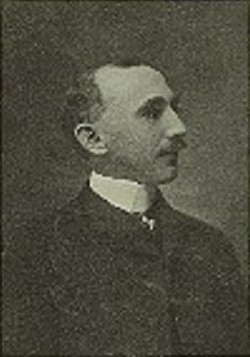 Madison Julius Cawein (1865 - 1914) was a poet from Louisville, Kentucky, who loved to write about nature. Sometimes referred to as "the Keats of Kentucky," Madison published more than thirty books of his own work and translated numerous others written by German poets. While nature was his favorite theme--his wonderfully detailed poems about his native state's flora and fauna have been called a "veritable nature guide to the Kentucky woodlands"--Madison also wrote about a broad range of other subjects, ranging from vampires to fairies. Critically popular, internationally acclaimed, and frequently published in contemporary magazines of his day, Madison was rendered almost destitute by the stock market crash in 1912 and was forced to sell his home and much of his library collection to survive.
There are no comments for this poem yet.