During the sermon at Midnight Mass I watch
the fine hairs on the back of Jack's hand catch the light, see
his fingers twitch a little like a dog dreaming of a romp
in golden fields. Are you awake? I whisper. His body
jerks. He smiles a sleepy smile. Every word, he says.

From The Fringes of Hollywood (Jacaranda Press).
Used with the author's permission.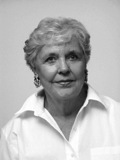 Mary Lou Taylor tried three other majors before settling on English. A teacher off and on for many years, she got serious about writing poetry after she retired. Author of one book and published in several journals and anthologies, she has a second book in the works and has proven retirement to be the myth it so often is by continuing to teach a few writing and poetry classes. Learn more about Mary Lou, who lives in Saratoga, California, at www.maryloutaylor.wordpress.com.
Mary lou taylor:
Nancy asked how I would handle direct quotes. I usually italicize them. I note that's not done here, and I sometimes put them in quotation marks. Whatever seems appropriate to the poem. This one I italicized when I sent it in (I think!). Happy Holidays. Mary Lou
Posted 12/24/2012 01:11 PM
Nancy:
I love the intimacy and truth of this poem. Since you are a teacher, I wonder if you would discuss how you decide how to handle the direct quotes in this poem. It is something I struggle with in my own. Many thanks and Happy Xmas. Nancy
Posted 12/24/2012 09:03 AM
rtaylor947@aol.com:
A memorable moment, perfectly captured.
Posted 12/24/2012 08:55 AM
Katrina:
This is serene.
Posted 12/24/2012 04:56 AM