I

The rutted roads are all like iron; skies
Are keen and brilliant; only the oak-leaves cling
In the bare woods, or the hardy bitter-sweet;
Drivers have put their sheepskin jackets on;
And all the ponds are sealed with sheeted ice
That rings with stroke of skate and hockey-stick,
Or in the twilight cracks with running whoop.
Bring in the logs of oak and hickory,
And make an ample blaze on the wide hearth.
Now is the time, with winter o'er the world,
For books and friends and yellow candle-light,
And timeless lingering by the settling fire.

While all the shuddering stars are keen with cold.
This poem is in the public domain.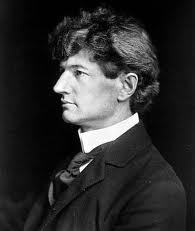 William Bliss Carman (1861 - 1929) was a Canadian poet whose standing and success rose and fell throughout his lifetime, though he was eventually named as his country's poet laureate. Distantly related to Ralph Waldo Emerson, Bliss spent most of his adult life in Boston, pursuing whatever literary career he could. Though his poetry was respected, it wasn't especially popular until he published Songs of Vagabondia, a rollicking, free-spirited collection that people connected with immediately. His other most notable work was serving as editor for the World's Best Poetry book series.
dotief@comcast.net:
Love it! When reading this, I feel as if I am in a Currier & Ives painting. Wonderful!
Posted 12/27/2012 09:29 AM
KevinArnold:
Powerful yet supple language; if he were an athlete, he'd be gymnast or grappling wrestler.
Posted 12/27/2012 09:28 AM